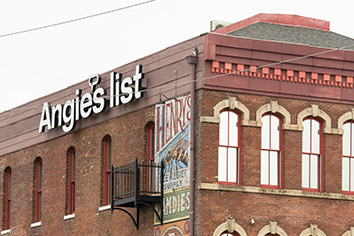 The layoffs that Angie's List officials alluded to on Tuesday are already under way at its Indianapolis operations, sources inside the company told IBJ on Thursday.
After announcing Tuesday that the company had hired investment bankers "to explore strategic alternatives"—terminology that companies often use before they sell themselves—officials said the firm would lay off employees as part of an effort to find between $15 million and $20 million in cost savings.
Specifically, it would target "non-revenue generating headcount," according to a spokeswoman.
As of Thursday, some of Angie's 1,800 employees in Indianapolis already had been terminated, according to three current employees and two former employees who still have ties to current workers. None wished to be identified by name.
On Thursday, Angie's List officials informed employees at The Landmark Center at 1099 N. Meridian St. about job losses. Angie's List began leasing space in the building in 2014, and also maintains a sprawling campus on the near-east side of downtown.
A group of people in Landmark Center's parking lot declined to comment about the layoffs on Thursday morning when asked by an IBJ reporter. Two uniformed authorities then asked the reporter to leave the property to respect the privacy of those being terminated.
According to the existing employees, the cuts are across departments including the newsroom, which employed more than 70 people earlier this year, and marketing.
Former employees who have been getting updates from friends who work there said the company also cut jobs in its collections department.
"It's gloom, it's gloom," said one former employee who asked not to be identified. "I talked to a guy there yesterday who said there were people who were upset and crying on the floor and just in dismay and just not knowing what's next."
Two employees said they anticipated "hundreds of layoffs," based partially on the job cuts that came in their department, and that they expect the layoffs to be wrapped up by today or tomorrow.
An Angie's List spokeswoman declined to comment Thursday morning.
Blake Harper, an analyst with Chicago-based Loop Capital Markets, said the rationale for the layoffs comes down to operational efficiency and profitability.
Since Scott Durchslag was named CEO last year to turn around the home-services company, he's had a penchant for investing in technology and automating labor-intensive processes, Harper said.
In that light, layoffs seemed bound to happen at some point, he said. But Tuesday's earnings report—a $16.8 million third-quarter loss on an 8.3 percent year-over-year revenue decline—probably accelerated them.
"They need to be more efficient, they need to be more profitable," Harper said. "But it's more of an urgency given the revenue declines. Even if they were growing [revenue], they want to be more efficient."
Harper also noted that the "strategic alternatives" announcement doesn't necessarily imply being swallowed by a competitor. It could mean a private equity investment or some other kind of "partnership or joint venture."
And while cash would be certainly helpful for its turnaround efforts, he said, cash may not be the only thing Angie's List is after.
"Distribution could be one thing," Harper said. "So, for example, a partnership with Home Depot or Lowe's. It wouldn't necessarily be cash that they'd be getting, but they'd be getting a presence in the physical stores or ways to deepen relationships with contractors."
Harper said the jobs cuts at Angie's List underscore gradual changes taking place at companies across the country.
"If you're not touching either the revenue side or the technology side, you're vulnerable," he said. "And that's a broader theme that's happening across the broader economy. It's not just Angie's List."
Please enable JavaScript to view this content.