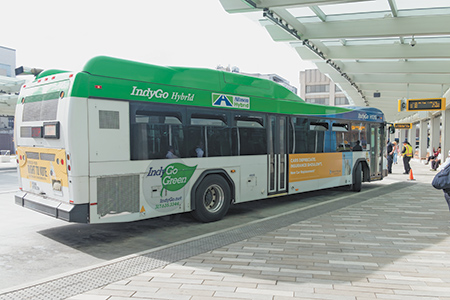 When are low fuel prices a bad thing? When you're trying to sell hybrid transmissions—a reality Indianapolis-based Allison Transmission Holdings Inc. knows all too well.
Allison, long the world's largest maker of automatic transmissions for commercial vehicles, as recently as a couple of years ago saw a bright future in hybrids. It launched a line of hybrid transmissions for buses in 2003, and it had hoped that in 2013 it would begin producing hybrid transmissions for trucks.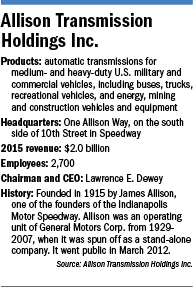 But those expectations never came to pass. A combination of factors, including a sharp drop in fuel prices, has depressed the market for hybrids. Allison's hybrid bus transmission sales have tanked, and the company says it's postponing production of hybrid truck transmissions until market conditions improve.
"When gas prices are high, demand increases for alternative technology that offers better fuel efficiency," Allison spokeswoman Melissa Sauer told IBJ. "However, when gas prices are low, consumers generally don't want to spend more for alternative technology when conventional technology has made strides in improving fuel efficiency."
Hybrids are more expensive, but also more fuel-efficient. Customers pay more upfront, with the expectation that the extra cost will be mitigated by lower fuel costs over the life of the vehicle. But when fuel prices drop, the equation falls apart.
In 2010, Allison reported $156 million in hybrid bus transmission sales, or about 8 percent of the company's total sales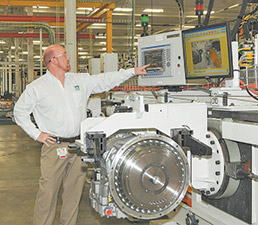 Allison also developed medium-duty-truck hybrid transmissions, like the one above, but has postponed full production until market conditions improve. (Photo courtesy of Allison Transmission)
The company's hybrid sales have dropped every year since, and last year reached only $73 million, or 4 percent of Allison's sales.
Diesel prices, which as recently as 2014 were $4 per gallon, have averaged $2 to $2.45 per gallon this year, according to the U.S. Energy Information Administration.
Citilink, the public bus system serving Fort Wayne, reflects the shifting dynamic. Nineteen of the system's 31 fixed-route buses operate with Allison hybrid transmissions, and three more hybrid buses are on order.
In 2008, when Citilink was deciding to buy new buses, diesel prices were high and volatile. The national average per-gallon price rose as high as $4.70.
The lofty prices helped persuade Citi-link officials to give hybrids a try.

"We were cutting service because we didn't have the money for gas," said Betsy Kachmar, Citilink's assistant general manager.
The hybrid buses each cost $670,000, Kachmar said, about double the price of non-hybrids. Federal stimulus money was available at the time, which brought down the cost.
Kachmar said Citilink has been pleased with the hybrids, and would like to convert its fixed-route fleet to all-hybrid. But the financial case is no longer as compelling.
"Our next order could very well be a straight diesel bus because we don't have enough money to buy a hybrid," she said.
IndyGo's fixed-route fleet has 15 Allison hybrids, system spokesman Bryan Luellen said, all acquired with the help of federal grants that helped cover the hybrids' higher costs.
With that subsidy no longer available, Luellen said, "any future purchase will require us to evaluate hybrid performance with cost."
Allison says in regulatory filings that expiration of government funding programs has hurt hybrid sales. So have advancements in alternative technologies.
For example, advancements in compressed natural gas have increased that fuel's attractiveness, especially in cold weather climates, said Citilink's Kachmar.
As of January 2015, the most recent date for which data is available, 16.7 percent of public transit buses ran on hybrid technology, compared with 22.3 percent using a form of natural gas, according to the American Public Transportation Association.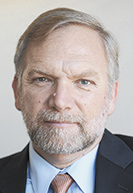 Filipi
The higher upfront cost of hybrids is an even bigger impediment in the commercial market than in the consumer market, said Zoran Filipi, department chairman for automotive engineering at Clemson University.
"There has to be a clear business case. There has to be a payback over a relatively short period of time," said Filipi, who is based on the campus of Clemson's International Center for Automotive Research in Greenville, South Carolina. "That's clearly the challenge."
The lower fuel prices go, the longer the payback period. But he said fuel prices won't always be so low.
"We have to be prepared. One of these days, the prices are going to move upward again," he said.
Allison in particular, he said, has had a pattern of "significant successes in the past," interrupted by periods of low fuel prices.
Another reason for optimism, he added, is the phase-in of stricter environmental standards through 2017. In addition, California's Air Resources Board is pushing for stricter emissions standards for heavy-duty vehicles.
While the board's action will apply only to that state, it will have a national impact since manufacturers will build their vehicles to comply with those standards.
At the same time, Filipi said, traditional internal combustion engines probably can't get much more efficient than they already are.
"We have kind of squeezed out as much as we can from conventional technologies," Filipi said, a reality he believes leaves room for growth of both hybrids and electric vehicles.•
Please enable JavaScript to view this content.