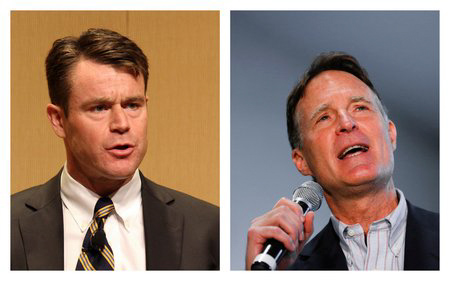 A new WTHR/Howey Politics Indiana poll finds Republican Todd Young with a five-point lead in his U.S. Senate race with Democrat Evan Bayh.
The poll, released Friday, shows Young ahead 46 percent to 41 percent among likely voters. Libertarian Lucy Brenton has 6 percent support among likely voters, and 5 percent of people are still undecided.
The poll also found that the Indiana governor's race is a tossup.
Republican Eric Holcomb and Democrat John Gregg both have 42 percent of the vote, while 11 percent of likely voters are undecided.
The polling is a departure from the majority of the Senate race where Bayh was leading. But he has been dogged by questions about his last year in the Senate, questions over his residency, and claims from Young's camp that he is a "Washington insider."
The same WTHR/Howey poll had Bayh with a four-point lead in September and a 1-point lead in October.
Political analyst Brian Howey credits the shift in part to a "unrelenting, scorched-earth volley" against Bayh from groups including the U.S. Chamber of Commerce, the Senate Leadership Fund and the National Rifle Association.
Young's campaign immediately released a statement praising the poll's result.
"Evan Bayh's scandals have caught up to him. Every day we learn more about how Evan Bayh left us to work for them," said spokesman Jay Kenworthy.
Democrats have been equally as critical of Young in their onslaught of political advertising, but the Indiana Democratic Party released a statement saying that Hoosiers should vote based on the issues.
"For all races up and down ballot, the Indiana Democratic Party has run a campaign based on Hoosier Common Sense and equal opportunity for all," said party chairman John Zody. "We believe wages need to improve for our workers, a statewide Pre-K program should exist for our children, and all Hoosiers no matter who they are or who they love should feel welcome in Indiana. … After four years of the opposite, we know Hoosiers are eager to elect common sense Democrats this November."
The poll was conducted Nov. 1-3 with 600 likely voters statewide, and has a margin of error of 4 percentage points.
Please enable JavaScript to view this content.