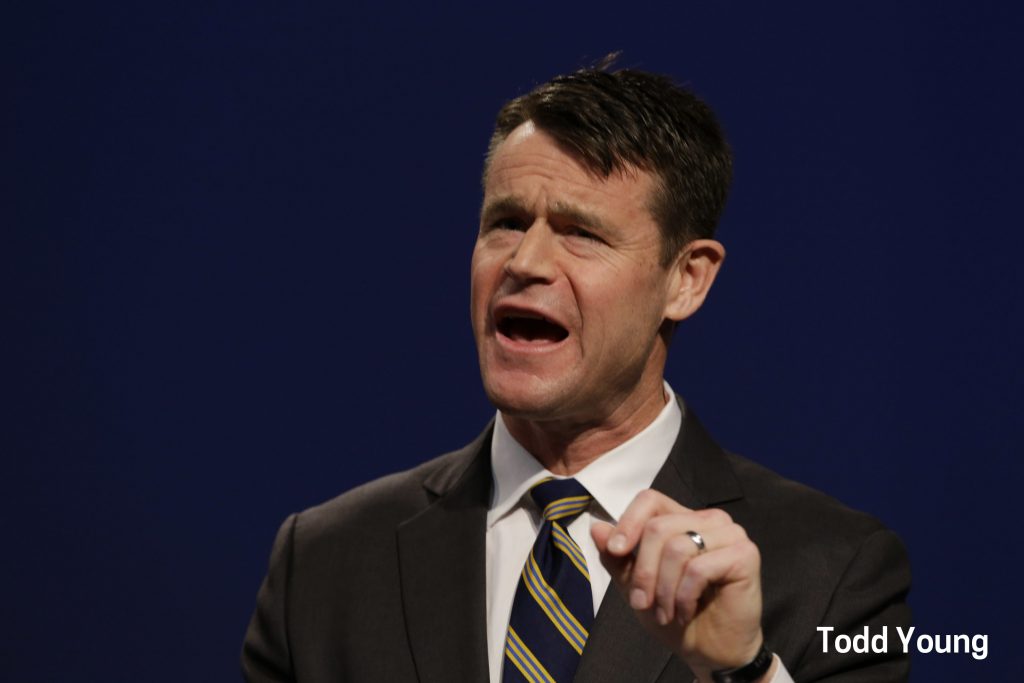 Democrat Evan Bayh was a strong favorite to capture his old U.S. Senate seat when he unexpectedly entered the race in July with a famous Indiana political name and millions of dollars in his campaign bank account.
It didn't turn out that way as a barrage of media reports and attack ads from Republican opponent Todd Young questioned Bayh's residency in Indiana and his lucrative business dealings since leaving the Senate six years ago. A recent polls show Young with a slight lead in the race after erasing Bayh's big early lead.
The Associated Press reported last month that Bayh spent substantial time in 2010, his last year in the Senate, searching for a private-sector job, while voting for or seeking changes to legislation that benefited the corporate and financial world. The AP also reported Bayh's schedule showed he didn't stay a single night at the modest Indianapolis condominium he calls home during his last year in office.
Bayh's big early lead in the polls evaporated as Young accused him of becoming a Washington insider who had left Indiana behind. Bayh, 60, has never lost an election dating back to 1986.
The race is one of a half-dozen around the country that could determine whether Democrats can overturn the GOP's narrow majority in the U.S. Senate.
The winner will replace retiring Republican Sen. Dan Coats.
Outside groups poured nearly $40 million into the Indiana campaign — with much of that money going toward ads aiming to tarnish the moderate, bipartisan image that Bayh cultivated during his eight years as Indiana governor before winning landslide elections to the Senate in 1998 and 2004. The Bayh name had been on Indiana ballots for decades including three terms as a senator served by his father, Birch Bayh.
Bayh responded with ads trying to remind voters of tax cuts and a college scholarship program from his time as governor that helped him leave office with sky-high approval ratings.
Young, a three-term congressman from southern Indiana, started the campaign at a major disadvantage in name recognition.
In an interview Monday with The Associated Press, Young said he had no regrets about going on the attack against Bayh.
"We haven't refrained from making sharp and fair distinctions where they exist," said Young, who also hit Bayh over his vote in favor of President Barack Obama's health care overhaul.
A late blitz of ads targeted Young for bouncing a $4,000 check when making a payment on delinquent property taxes and for spending more than $500,000 in taxpayer money to send promotional mailers to people in his district—more than any other member of Indiana's congressional delegation since 2010.
Bayh has also criticized Young for campaigning against the 2008 auto bailout that cost taxpayers billions of dollars while rescuing carmakers General Motors and Chrysler, who employ thousands of Indiana workers.
"Congressman Young's voting record and mine are very clear," Bayh said. "I've voted for the best interests of Hoosier families and Congressman Young's voting record has been against the best interests of Hoosier families."
Young, 44, is a Naval Academy graduate who was a Marine Corps intelligence officer and aide to former Sen. Richard Lugar. He received an MBA from the University of Chicago and a law degree from Indiana University. He was an attorney living in Bloomington when he narrowly won a four-way Republican primary and then defeated Democratic Rep. Baron Hill in 2010, riding the Tea Party wave into Congress.
Young often says he wasn't raised in a political family. But his wife Jenny is a niece of former Republican Vice President Dan Quayle, who rose to prominence by defeating Bayh's father in Indiana's 1980 Senate race.
Please enable JavaScript to view this content.