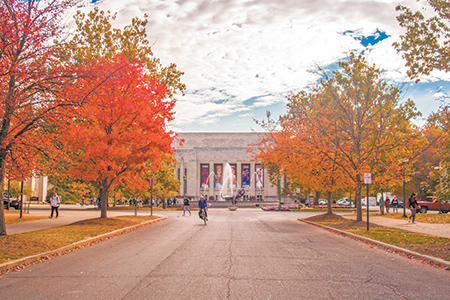 Visit Bloomington has overhauled its marketing campaign and doubled its ad budget this year—a move it projects will ring up more than $1 million in economic impact for the city 50 miles south of Indianapolis.
But some marketing experts wonder if the campaign, which pegs the home of Indiana University as the "blue dot in a red state," might be so politically charged it alienates some visitors.
The city's tourism marketing arm launched the focused campaign late this summer and Visit Bloomington officials said it is already showing positive results.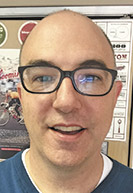 McAfee
"The impact has been immediate," said Mike McAfee, Visit Bloomington executive director. "We're in a very positive position heading into 2017."
The campaign was fashioned after a year-long study conducted for Visit Bloomington by Indianapolis-based Pivot Marketing. The new branding—in the form of a revamped website, billboards, print and five different television ads—began in August with a boost two weeks ago, McAfee told IBJ.
The 2016 ad budget was doubled to $600,000, with Indianapolis, Louisville and Evansville as major targets. Visit Bloomington plans to spend another $600,000 on marketing next year.
"We want to continue being aggressive," McAfee said.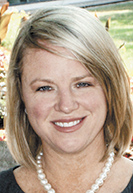 Cecil
The $300,000 spending bump is a "huge increase for a city the size of Bloomington," said Amanda Cecil, IUPUI associate professor and chairwoman of the Department of Tourism, Conventions and Event Management.
"Most [convention and visitors bureaus] that size don't have that kind of money to throw around," Cecil said. "They must have some serious justification that this is going to pay off for them. They've obviously researched new groups, new events and new clientele that they will be marketing to that they're convinced this messaging will resonate with."
Pivot Marketing was "adamant about doing the research," said the firm's partner, Keri Kirschner.
"A lot has changed in Bloomington, both over the years and more recently," said Kirschner, who previously worked for two New York agencies—The Brandman Agency and Weber Shandwick Worldwide—on travel and tourism accounts. "We wanted to make sure we captured the voice of Bloomington with this campaign. So from the standpoint of having done the research, we're not surprised by the campaign's early success."
Since the launch, McAfee said, Visit Bloomington's web traffic "has exploded."
In September, the organization's website had 72,000 "user sessions," he said, up from a monthly average of 50,000.
"My goal in 2017 is to have 1 million user sessions," McAfee said—which is 400,000 higher than usual.
He said converting 60 percent of new website visitors into actual visitors—leisure and convention attendees—would represent a seven-figure additional economic impact for Bloomington.
Already, Monroe County hotels—which total 2,303 rooms—have seen a bump from the campaign. Occupancy through September was 64.4 percent. That's up from 57.6 percent from the same period in 2015.
Hotel room nights through September were 405,000. That's up from 362,000 during the same period in 2015. McAfee said the county is well on its way to topping 2015's record of 469,000 hotel rooms booked. With the two-day Hilly Hundred bike ride and IU's homecoming football game, "October was a huge month," he said.
That's especially good news, McAfee said, considering three new hotels—totaling 340 rooms—are planned, all of which should be open by late next year.
Blue-dot controversy
A synopsis of the campaign on Pivot's website explains it like this: "Bloomington, Indiana. A blue dot in a red state. A small city with a global mindset. Home of Indiana University. It might be in the middle of the Middle, but Bloomington is nothing you'd expect. Its natural beauty and nurtured intellects combine to offer progressive cultural experiences. Ideal for idealists."
One key to the campaign is a consistency that had been lacking, McAfee said.
"For years, our message has been scattered," he said. "It's been one thing to one group and another to another group. We needed that consistent platform … that one thing we wanted Bloomington to be known for."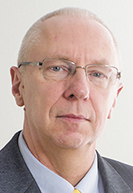 Walton
The theme, McAfee added, is that "Bloomington is for idealists, dreamers, visionaries and wishful thinkers."
But some marketers think the reference to "a blue dot in a red state" is dangerous. Given that at least 75 percent of Visit Bloomington's group business is in-state, there would seem to be merit to the concern.
"Anytime you put any political reference in your campaign, you risk alienating half your audience," said Jim Walton, CEO of Brand Acceleration, an Indianapolis-based marketing consultancy focused on economic development. "We never mix politics or religion with any of our work. It's not a place I'd go. I'm surprised Bloomington would associate with any kind of reference like this."
While Bruce Bryant, president of Indianapolis-based Promotus Advertising, said the blue-dot reference could be "polarizing," overall he likes the campaign and said it sets Bloomington apart in a good way.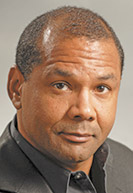 Bryant
"Positioning the city as forward-thinking and open-minded is a good thing not just for the attraction of tourism business, but for the attraction of businesses and employees to that city," Bryant said. "They're trying to counter the outside perspective that Indiana is boring and conservative, and I think that can be a smart play for the city if executed properly."
McAfee said the blue-dot reference won't be emphasized in ad materials. Instead, Bloomington will be positioned as "a different place—a cool, liberal, fun town."
But Walton said even a reference to Bloomington's being liberal could be dangerous.
"We're certainly the most liberal, Democratic city in the state of Indiana," McAfee said. "We're not hiding from that. We are the diverse destination in the state of Indiana."
Unlike Visit Indy, Indianapolis' tourism marketing arm, Visit Bloomington "doesn't have to try to be all things to all people," Bryant said.
"Bloomington doesn't have the massive infrastructure to fill that Indianapolis does," he said. "It can afford to set itself up as a niche market."
Demand outstrips supply
McAfee said he doesn't fear any adverse effects from the campaign.
"We have tons of groups that want to come here," he said.
In many cases, the city has more groups wanting to come than can be accommodated.
Bloomington has the same problem as a lot of small and midsize cities. It lacks the meeting space to fill hotels during the week. Monroe County hotels—fueled by events like IU football games, the Hilly Hundred and Little 500 bicycle race—are 90 percent full on weekends, McAfee said. During the week, they're about half full.
The 24,000-square-foot Monroe Convention Center in downtown Bloomington can accommodate only one group at a time (about 800 people), which means Visit Bloomington turns away 40 to 50 groups—ranging from 50 to 200 attendants—annually, McAfee said.
"That amounts to hundreds of thousands of lost economic impact a year," he said.
With the completion of the Interstate 69 leg from Bloomington to Evansville nearing and the expansion of the local hospital, McAfee said, Bloomington's tourism trade is set to take off.
Five years ago, the Monroe County Convention Center Building Corp. had the foresight to buy six acres surrounding the convention center, which gives local officials the option to more than double its size. State officials have given the Monroe County Council authority to levy a 1 percent food and beverage tax, which it has not yet done. Those funds, McAfee said, will be needed for expansion.
"It's a new tax, and I get it," he said. "People don't like new taxes. I don't feel like we can expand the convention center without an adequate source of funding."
But with this new marketing campaign and the resulting tourism growth, McAfee said, county officials might have to revisit that issue soon.•
Please enable JavaScript to view this content.