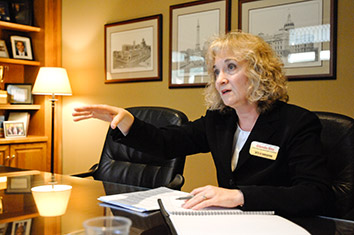 Late Tuesday night, after the GOP had swept most of Indiana's Election Day races, Republicans watched the last big undecided race closely until they got one more desired result — Indiana Superintendent of Public Instruction Glenda Ritz had gone down in defeat.
For so many Indiana Republicans who had predicted that the Democrat wouldn't last beyond one term, the verdict was in. They had been right all along that she lacked staying power.
But Ritz's legacy as a political leader isn't so simple.
Four years ago at this time, in the days after the 2012 election, everyone involved in Indiana politics was trying to figure out what to make of Ritz's upset win over then-state Superintendent Tony Bennett.
Her most energetic supporters declared her victory the start of a grassroots movement that eventually would roll back the controversial changes that Bennett had advanced, including an expansion of school choice and a system of using student test scores to hold teachers and their schools accountable for student success.
His critics believed he had harmed public education and rallied around Ritz as the antidote.
But Republicans dismissed the idea that Ritz was anything more than a a one-hit wonder.
They thought Bennett's sometimes pointed criticism of public schools, and especially public school teachers, had simply rubbed too many people the wrong way. They didn't believe for a minute that Ritz, a classroom educator her whole career who ran an vastly under-funded and under-the-radar campaign, was ready to manage the Indiana Department of Education. Nor did they think the kindly teacher, who one Republican leader noted derisively was a librarian in her last school job, would be able to trade punches in the cage match that statehouse politics can often be.
So now that's Ritz has been ousted by Republican Jennifer McCormick, superintendent in Yorktown and a career educator with no experience in state government, is it fair to consider Ritz a flameout? That question has a more complicated answer.
For all the energy that ultimately coalesced around Ritz as a political figure — a statehouse rally to support her when Republicans wanted to strip her power drew a raucous crowd in 2015 — the idea that she would lead a political movement certainly fizzled.
By her second year, some of her key Democratic allies in the state legislature lost their seats. When her supporters tried to unseat Republican House Education Committee Chairman Robert Behning, he easily won re-election. Ritz's own campaign last summer to run for governor against her nemesis, incumbent Republican Gov. Mike Pence, failed so badly to catch on that she called it off after just 10 weeks.
Finally, Ritz's bid for a second term as the state's top election official re-election campaign crashed and burned, too.
Despite all that, Ritz made a name for herself in Indiana politics well beyond her shocking upset of Bennett and could well have a second life in politics if she decides to run for another office.
Over her four years, Ritz emerged as an unexpectedly potent political player who often shrewdly outmaneuvered her foes.
Emails leaked from her office so embarrassed Bennett that he abruptly left his new job as education commissioner for the state of Florida, then was forced to pay a $5,000 fine for violating Indiana election law. The one-time national school reform darling all but disappeared from the political scene.
When she felt Republican political pressure went too far, she filed lawsuits against her fellow state board members and walked out of a state board meeting.
Efforts by Pence to work around Ritz also didn't last.
For example, in 2013 he created the Center for Education and Career Innovation — which Ritz derided as a shadow organization to undermine the Ritz-led education department — but then abandoned that effort and dismantled it a little more than a year later.
Even the legislature's ballyhooed Republican effort to force Ritz out as the chairwoman of the Indiana State Board of Education was softened so it would not take effect until after her term ends in 2017.
Ironically, it's McCormick, her Republican successor, who will have to live within the new confines of those changes.
For much of her term, Ritz was the most recognizable Democratic voice battling back against Republican policy ideas, and her fans loved her for it.
It's not clear what's next for Ritz. She hasn't said anything about her future plans. She could simply go back to working in the classroom. At age 62, she could retire, as many educators her age do. But she's also younger than both Donald Trump and Hillary Clinton, so a return to politics is certainly not out of the question.
Whatever happens to Ritz, though, teachers and her other supporters aren't likely to embrace the Republican policies they've so strongly opposed. The question: Will a new leader emerge to lead the fight against them?
Chalkbeat is a not-for-profit news site covering educational change in public schools.
Please enable JavaScript to view this content.