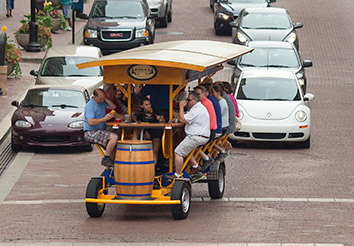 The City-County Council on Monday approved regulations for "pedal pubs," the passenger-powered bar-on-wheels trolleys that travel down city streets.
The regulations will require pedal pubs to be licensed by the city and to carry liability insurance, among other restrictions. The pubs will now be included in the city's existing pedal cab ordinance.
The effort, which passed 20-2, was introduced to the council in September and sponsored by Republican Councilman Jeff Miller and Democratic Council President Zach Adamson.
"I want to thank the council and the administration for working through this," Republican Council member Jeff Miller said. "I want to thank the pedal cab and pedal pub companies to make sure this is something that is fair, that did not impinge on their ability to have successful businesses, but did protect the city and its residents from liability and put in parameters for how the businesses should operate."
Local businesses that offer pedal pubs, which carry as many as 16 passengers, include the HandleBar and the Pickled Pedaler. Pedal pub excursions have grown in popularity in recent years.
Please enable JavaScript to view this content.