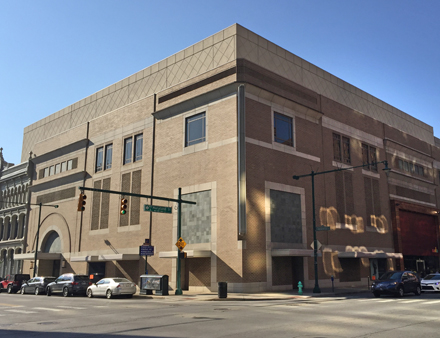 A Florida-based cigar bar is set to join the mix of restaurants that have taken space vacated by Nordstrom on the ground level of Circle Centre mall
Burn By Rocky Patel, which opened its first location in 2010 in Naples, Florida, has agreed to occupy a 5,500-square-foot space on the southwest corner of Meridian and Maryland streets, owner Rocky Patel told IBJ on Tuesday morning.
He hopes to open the downtown location next summer.
"Indianapolis is a great sports town and a great convention area," he said. "We wanted a nice presence in the Midwest. You've got some great steakhouses, but there's really nowhere for an adult to relax."
The Burn concept features a full bar and food in a smoker-friendly nightclub environment. It sells cigars from the Rocky Patel brand, as well as from third-party vendors.
"Burn is considered the sanctuary for those who enjoy fine cigars and premium spirits," its website says. "Our great selection, paired with unparalleled customer service, is what makes Burn by Rocky Patel a world-class establishment."
The outpost in Indianapolis will be Burn's third location. A second, in Pittsburgh, is under construction in the city's North Shore neighborhood and should open in the spring.
Each location's design will be different and will feature custom-made furniture and fixtures, lounge and entertainment areas, and ground- and mezzanine-level VIP sections.
"We're bringing an art form to the lounge concept, Patel said.
Burn is taking a space in Circle Centre where a Syracuse, New York-based barbecue chain had intended to open a location but then abandoned its plans.
Dinosaur Bar-B-Que ditched its efforts in August 2015 after submitting several revisions to its design plans to the Indianapolis Historic Preservation Commission. Large graphics and paintings of pigs on metal panels that would have adorned the mall's exterior were particularly concerning to commission members.
Although the IHPC ultimately approved the plans, Dinosaur Bar-B-Que chose not to follow through.
In the meantime, mall operator Simon Property Group Inc. has filled much of the remaining mall space vacated by Nordstrom in 2011.
Denver-based Punch Bowl Social, which features old-school amusements like bowling, billiards, skee-ball and Pac-Man, opened in September, taking 30,000 square feet along Meridian and Georgia streets. Also, upscale mexican eatery Nada opened in March on West Maryland Street next to Yard House.
And a new concept known as Burger Study is expected to open in May 2017 in 5,000 square feet along Georgia Street, between Illinois and South Meridian streets. Craig Huse, the operator of downtown icon St. Elmo Steak House and offshoot Harry & Izzy's, is launching the high-end burger restaurant.
Burn By Rocky Patel will compete with downtown's other cigar bar, Nicky Blaine's Cocktail Lounge at 20 N. Meridian St., just south of Monument Circle.
Burn appeals to a broader audience than just cigar ethusiasts, Patel said, citing the heavy investment the company makes in ventilation systems to ensure the locations are flush with fresh air.  
Patel was an entertainment and product liability lawyer working in Los Angeles in the mid-1990s when the premium cigar market began catching fire. He co-founded the Grand Havana Club in Los Angeles and started manufacturing his own cigars under the Indian Tabac name.
In 2003, he began focusing on the Rocky Patel Vintage Series, ultimately leading to the opening of his first cigar bar in 2010.
 
Please enable JavaScript to view this content.