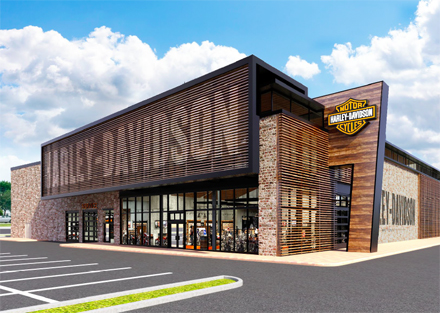 Harley-Davidson is planning to construct and open a new dealership in Fishers along State Road 37 and close its existing north-side store.
The new 43,000-square-foot store will be located near 126th Street and SR 37 in the Reynolds Industrial Park.
Harley-Davidson of Indianapolis owner Donna Dellen said business has doubled in the last year, and the dealership has outgrown its 22,000-square-foot store at 4146 E. 96th St., just east of Keystone Parkway in Carmel.
The 96th Street property will be sold, Dellen said.
The store has 32 employees now and additional workers will be hired for the larger Fishers location, but Dellen did not have an estimate on the number of jobs.
Construction is expected to start in March, and the store could be open as early as November 2017, weather permitting. If the store isn't ready in November 2017, the opening would be postponed until January 2018 to avoid moving during the holiday season, Dellen said.
The development plans for the Fishers property filed by Diamond Realty II LLC also include two commercial lots that will be available. Dellen, who is the principal of Diamond Realty II, said the developer hopes to attract "a restaurant that will be complementary to our customers and the Fishers community."
"Fishers is one of the fastest growing communities in Indiana, and the location we are purchasing allows us to be a part of the growth but still easily accessible to all our customers," Dellen said.
Dellen declined to disclose a cost for the project.
As part of a pending economic development agreement with the city of Fishers, Diamond Realty II would make improvements to Reynolds Drive to bring it up to city standards and provide the right-of-way to Fishers so the city could extend Parkside Drive on the north side of 126th Street to Reynolds Drive on the south side of 126th Street.
The upgrade to Reynolds Drive would be completed after construction of the new store is finished. After the road improvements are made, the city would take control of the street. It is currently a private drive.
Reynolds Drive would become a right-in and right-out-only intersection south of 126th Street once the Parkside Drive extension is completed.
The city would waive about $30,000 in impact fees as part of the agreement. The Fishers City Council is expected to consider the agreement at its meeting Monday.
The annual holiday lights display by Reynolds Farm Equipment Inc. is not expected to be affected by the development. 
Please enable JavaScript to view this content.