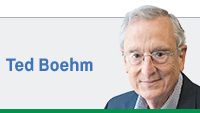 Well, the dog caught the car. What does he do now? Who knows? Some of President-elect Trump's policy pronouncements have never been fleshed out and remain devoid of substantive content. He promises to construct a wall along our border with Mexico and "make Mexico pay for it." How does he propose to accomplish that? I hope he does not want to start a trade war, and military force is out of the question. He offers negotiation as his answer to many questions, but what does he propose to offer Mexico?
Other Trump campaign proposals would require legislative approval that seems highly improbable. He says he would make up the revenue loss from his enormous tax cut for the wealthy by the growth it would stimulate. But, according to most estimates, compensating for a tax cut of that magnitude would require a 10 percent annual growth in gross national product, a level never seen before in any single year, much less over an extended period.
Yet other Trump plans have already been walked back or abandoned. We never learned what his promise to round up and deport massive numbers of perceived illegal aliens would cost in additional personnel, transportation and housing costs or litigation expenses, or how he would pay for it. That proposal has already been trimmed to the current administration's policy of deporting only convicted criminals—a much smaller and identifiable group.
Despite all this uncertainty, Trump's victory might offer the possibility of some real progress here. With a Republican in the White House, the GOP majorities in both the House and Senate should no longer seek to oppose any proposals simply to deny a victory to a Democratic president. Trump does not appear to be an ideologue, and he certainly has an outsize ego that will want to establish a significant legacy. With a Republican president, the congressional majorities may no longer offer knee-jerk opposition to anything that comes from the White House. And it might be possible to achieve some legislative breakthroughs that have been unattainable the past eight years.
Now that the economy is slowly crawling out of the recession, it is time to revisit a long-term fix for the chronic problems we continue to kick down the road to future generations. Certainly, a bipartisan consensus is emerging that a major infrastructure investment is needed and is on Trump's agenda.
Attacking the issues of stabilizing Social Security, a constantly growing national debt, and simplifying the tax system will be more difficult, but maybe, just maybe, a Trump presidency could prompt a revisit to these complex and interrelated issues.
President Obama created the bipartisan National Commission on Fiscal Responsibility and Reform, popularly known as Simpson-Bowles, to address these challenges. In 2010, the commission made its proposals and drew flak from the right and the left. The proposal was not endorsed by the Obama White House, was opposed by now-Speaker Paul Ryan (then one of the members of the commission), and was soundly rejected by Congress in 2012.
Former Republican Sen. Alan Simpson, a co-chairman of the commission, ascribed this defeat to a Republican Congress' desire to deny a Democratic president a historic victory. In his typically colorful language, Simpson said Congress wanted to "stick it to the president." If that is an accurate assessment of what happened, perhaps a Republican president can turn partisanship from an obstacle into an ally for progress.•
__________
Boehm is a retired Indiana Supreme Court justice who previously held senior corporate legal positions and helped launch amateur sports initiatives in Indianapolis. Send comments on this column to ibjedit@ibj.com.
Please enable JavaScript to view this content.