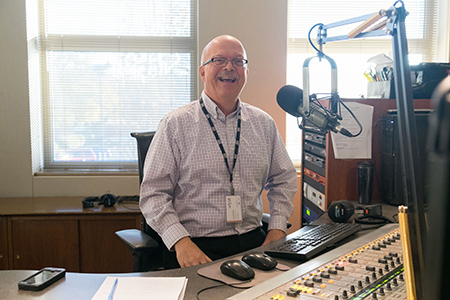 Generations of central Indiana radio listeners know Don Hibschweiler—or at least his voice.
But there's so much listeners don't know about the local host of National Public Radio's "Morning Edition" on WFYI-FM 90.1, it's difficult to decide where to begin his amazing story.
So let's start by mapping the long and winding road of his career. Then we'll go back to the beginning.
On the air, he's gone by Don Hibschweiler, Don Riley, Don McKay, Doctor Don and Jerry Riley. He's worked for nine stations in seven cities in five genres—country, oldies, top 40, adult contemporary and news-talk.
He's 64 years old and, on Nov. 1, celebrated 50 years on the air.
He's been serenaded by a young Kenny Chesney, interviewed Republican vice presidential candidate Sarah Palin, and quizzed rock musician Meat Loaf about his inhalation of pure oxygen during performances.
Hibschweiler has more information about rock 'n' roll crammed in his brain than Encyclopedia Britannica and Google combined and knows just about as much about politics and local landmarks and events.
He's a self-described introvert and animal lover and his peers say he has a wicked wit and a sense of humor so dry it makes the Mojave Desert seem like a rainforest.
He's so quiet many of his WFYI co-workers became aware of his background only when the station did a surprise on-air tribute during his morning show this month.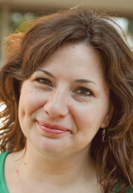 Caldwell
"Don is incredibly humble, so much so that most of us didn't realize how much experience he has and what a badass he's been in the radio industry," said Roxanna Caldwell, WFYI-FM 90.1 manager and program director. "He's the dictionary definition of a living legend."
He's been a DJ, assistant program director, program director, news anchor and reporter. He even did a short stint as a chief engineer.
He gets to the studio at 16th and Meridian streets at 4:20 each morning and spends three hours after he gets off the air listening to San Francisco NPR affiliate KQED-FM broadcast the exact same show he hosted three hours earlier.
But why?
"It's a great station, No. 3 in a very competitive market," Hibschweiler explained. "I want to hear how their local host handles the show. Sure, I've been around a long time. But there's still so much to learn. I listen because I think maybe they have something to teach me. I want to do everything I can to learn to get through to listeners on a personal level."
At WFYI, Hibschweiler said, "I'm the needle that sews the different segments together." He gathers and broadcasts all the local news, weather and traffic at the top and bottom of each hour and reports, writes and broadcasts feature stories.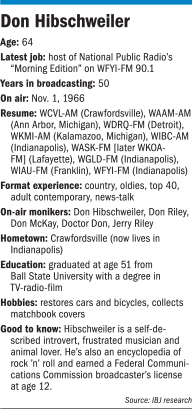 The first spark
Hibschweiler has been hungry for knowledge since he began reading record labels at age 3. When he was 7, he started working at the Crawfordsville radio and TV repair shop run by his father, Gerry.
In the shop—which was adjacent to his house—his dad always had a radio playing local station WCVL or one of the high-wattage stations out of Chicago or Indianapolis. Hibschweiler peppered his dad with questions about the stations' locations and formats.
He was so fascinated by the faceless on-air personalities and the stations' workings that he earned a Federal Communications Commission radio operator's license in 1964—at age 12. Earning the license required Hibschweiler to pass a test covering radio law and operating practices and procedures.
"That's an unbelievable accomplishment," said broadcast veteran, attorney and Ball State University communications professor Barry Umansky. "To have the wherewithal to earn an FCC license at age 12 is amazing."
With license in hand, Hibschweiler launched a radio station with a two-watt transmitter out of his basement. His dad, who taught radio operators in the Army Air Corps during World War II, helped him get set up, but after that, it was all Don.
The signal didn't go much beyond his parents' property, but his dad played it in his shop and the young Hibschweiler figured customers would hear. He now admits that notion might have been optimistic.
"It was mainly my mom listening," he said with a laugh. "And I didn't take requests."
But someone did take notice. The station manager at local WCVL offered Hibschweiler his first paying job two years later. At age 14, he was making $1.25 an hour.
He was in such demand that station personnel would pick him up and bring him in when his parents couldn't.
"It had an innocence about it," Hibschweiler said. "It was a small town. It was at the corner of Main and Washington streets across from the courthouse in Crawfordsville. But it was show biz!"
In 1970, despite having been on the air for six years (four professionally), Hibschweiler enrolled at Ball State University to study radio and TV. "I knew there was still so much to learn," he said.
At Ball State, he learned microphone techniques, script writing and how to improve his on-air timing. Hibschweiler, ever modest, kept his experience secret until he slipped one day and used some advanced methods of handling turntables and records.
"My professor stared at me and said, 'Where'd you learn that?'" Hibschweiler said.
After his junior year, Hibschweiler left college to take a job at WAAM-AM, a top 40 station in Ann Arbor, Michigan. "I felt it was an opportunity I couldn't pass up," he said.
Quitting school was a decision that would haunt him for decades.
"It got to the point that I was really ashamed I hadn't graduated," Hibschweiler said. "My dad was an independent businessman. He worked hard and paid a lot of money for my education. And I hadn't finished."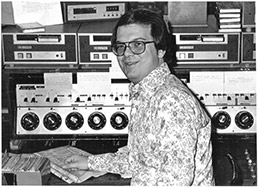 Hibschweiler was Don Riley on air in fashionably groovy 1977 at WDRQ in Detroit.
(Photo courtesy of WFYI-FM 90.1)
Man of many names
Hibschweiler took on many on-air pseudonyms over the years—a common broadcasting practice—although he had stuck with his own name at his first gig.
Station managers in Ann Arbor, however, wanted him to use something simpler and catchier. And besides, the station already had one Don on the air. So as a tip of the hat to his dad and legendary WIBC broadcaster Chuck Riley, he went by Jerry Riley. When he moved to WDRQ in Detroit, that station already had a Jerry on the air, so he changed his name to Don Riley.
When he joined WIBC as overnight DJ in 1982, the station made him change again because Chuck Riley—although he had departed in 1977—still had strong name recognition. So Hibschweiler became Don McKay.
He went back to Don Riley at WASK in Lafayette before morphing into Dr. Don at Indianapolis top 40 station WGLD. When he returned to WIBC and Network Indiana—his first full-time foray into news—he was Don Riley once more. Then, when he joined WFYI in 2011, Hibschweiler was at last ready to come full circle.
"I thought this would be my last station, so it would make a nice arc to use my real name at the first station and the last one," he said. "Besides, I noticed the reporters and anchors on NPR used their real names. No one else used a stage name."
Hibschweiler, who became acquainted with WFYI officials when he volunteered for the station's program to read to the blind, doesn't spend much time thinking about retirement, but figures he has about two years left in the tank.
Back to school
Hibschweiler couldn't shake the thought of graduating from college. He called Ball State in early 2003 to see what it would take. After writing a lengthy paper to chronicle his industry experience and completing other assignments, he enrolled in Umansky's broadcast law course to fulfill his remaining requirement.
At 51, he was 30 years older than the rest of Umansky's students. He stood out in more ways than one.
"He was a prize student. Very dedicated and very bright," Umansky said. "He aced the course. But more than that, he took it seriously and was eager to learn. He was never presumptuous or arrogant about anything despite his many years' experience in the industry.
"I taught him about slander, libel and invasion of privacy, and he taught me everything he knew about rock 'n' roll. And believe me, he knows an unbelievable amount about rock 'n' roll," Umansky added with a chuckle.
At last, Hibschweiler graduated from BSU with a degree in radio-TV-film in late 2003. He called going back to college his "biggest achievement."
"I learned the most difficult part of doing something is often that first step," he said. "Once I got in, I found it very fulfilling."
Unfortunately, his dad wasn't there to see him graduate. He died in 1985, one month before his 75th birthday. Neither was Hibschweiler's first wife. His high school sweetheart, Terri Martin, died of breast cancer on her 50th birthday in 2002.
In his personal life, as in his profession, Hibschweiler persevered. Though he said he'll never stop missing his first wife, he remarried on Aug. 9, 2010, to Peggy PeGan. And his hunger for learning doesn't stop with broadcasting. He took piano lessons when he was young and started drum lessons at age 40. The self-deprecating Hibschweiler said he's no good at either.
He taught himself how to restore cars—working on a prized 1966 Mustang he later sold to his nephew—and bicycles, including a 1960 Columbia two-wheeler.
Hibschweiler has even learned in the lean times. During tumultuous periods of his career, he dabbled in radio advertising and car sales as well as assembled wire harnesses for Kirby Risk Electrical Supply. He's also graded ISTEP tests for CTB-McGraw-Hill.
"I found out I'm no good at sales," he deadpanned. "And I relearned how much I love radio."
He also learned that his co-workers were like family. He fondly recalled how supportive his general manager, Charlie Morgan, and program director, David Wood, and the rest of the WGLD staff were when his wife died.
"The entire staff drove to Crawfordsville for the funeral," he said. "It was tremendously touching. And a tremendous support."
Hibschweiler, Wood said, is an easy guy to like.
"He's one of my favorite people I've ever worked with," Wood said. "He's infinitely kind and warm-hearted. I don't know that I've ever worked with anyone who had a bad word to say about him."•
Please enable JavaScript to view this content.