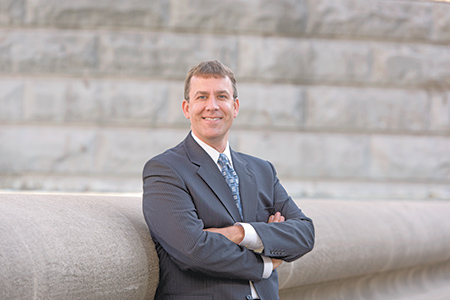 Vice President, Chief Financial Officer
Indiana Limestone Co.
Founded in 1926, the premier supplier of Indiana limestone has helped build the Empire State Building, the National Cathedral and the Pentagon. And, yes, Indiana Limestone owns the quarry seen in the movie "Breaking Away." But in 2014, while going through a bankruptcy, the company called in Matt Howard to help with the turnaround. The result: revenue and earnings growth and new business relationships to strengthen the iconic Indiana company.
Education: Howard's bachelor's in management (with a minor in Spanish) from Indiana University's Kelley School of Business helped launch his career. When it came time for his MBA, though, he steered away from his strengths. "Finance was the area I felt least comfortable with and so I chose that as my focus." 
The road: Three years working for The May Co. department stores in Cleveland and Chicago led to 14 years in high-tech—first for Intel in Arizona, then flash-memory maker Numonyx in Geneva, Switzerland. Was it a big leap from tech to limestone? "It's very transferable," said Howard, who walked into Indiana Limestone knowing it was facing financial challenges. "I do research before I take a job, and I was looking at companies with good fundamentals underneath them. In this case, they had the dominant position in the market. I knew we had a product that people relied on."
Major company achievements during his tenure: Bringing the company back from bankruptcy and growing revenue (26 percent from 2014-2015 with another 17 percent expected in 2016). "I like to create order and structure out of chaos," Howard said, "and so this was a great environment for me."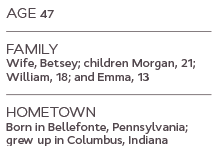 Recent business challenge: Installing a new enterprise resource planning system. "In the course of a nine-month project, we installed Microsoft AX across the entire enterprise and went live with very few issues," he said. "This was accomplished by setting up clear project goals, controlling our desires for customizations, and executed with a lot of extra effort from the internal team."
Commuting from his residence in Carmel to work in Bloomington: "The first year and a half, I was down there all the time and kept a place there," Howard said. "Now I have no problem managing from Carmel two days a week."
Beyond the office: Howard has served as an adviser for Goodwill Industries of Central Indiana. He was also a member of the 2015-2016 Leadership United not-for-profit development program at the United Way of Central Indiana.
Downtime: Howard has run the Monumental Marathon every year but one since 2010.
Ever go swimming in a quarry? "Honestly, I haven't. As the guy who deals with the insurance, I'm the one trying to keep people away from them."•
Check out more CFO honorees..
Please enable JavaScript to view this content.