Chief Financial Officer 
One Click Ventures
Eric Smith has guided online retailer One Click Ventures as it continues to grow and find its niche in the marketplace. "When I started, the focus was both on organic—growing the existing revenue—and inorganic—acquisitions," Smith said. "As it has matured, we've gotten clarity on what our real core competencies are."
Education: Smith said he always enjoyed understanding how things work—which is how he got into engineering and, eventually, finance. He earned a mechanical engineering degree from Purdue University and his MBA from the University of Notre Dame. "Numbers tell you the story if you look closely enough with a creative mind," he said, "whether it's an engine, a project or a business."
The road: Once a senior engineer at Cummins, Smith took an eclectic career path that included stints as an investment banking associate with Citigroup, a principal with Avant-Garde Consulting, and an associate fellow with the Sagamore Institute before joining One Click as director of acquisitions. He became vice president of finance before being promoted to CFO.
Major company achievements during his tenure: During Smith's time at One Click, the company divested or acquired seven businesses; rolled out an equity incentive plan; and launched Felix + Iris, a prescriptive eyewear brand.
Recent business challenge: By 2013, One Click was a nine-brand e-commerce company. But to maximize its growth potential, a decision had to be made about focus. "We were recognizing that scaling through acquisitions was becoming more challenging and maintaining synergies was becoming more difficult," Smith said. He and the rest of the executive team spent months researching and modeling what various opportunities might look like. Making a strategic decision to focus on and invest heavily in One Click's eyewear brands, the company boldly divested itself of its other companies while launching a new brand.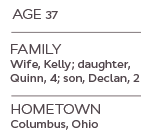 Lessons learned: "You never know what curveballs will come your way. … You have to have your end objective in sight at all times."
Mentor/inspiration: "I've never met [author and speaker] Bob Goff, but he's a strong Christian and has really been an inspiration in terms of living life without fear and recognizing that you are only in control of so much."
Beyond the office: "I try to understand what I truly have the capacity for," Smith said. "Far too many of us say yes to everything and spread ourselves too thin." He has said yes to such organizations as Lemonade Day Indianapolis, where he served as an advisory board member and seed-fund steering committee member, and Circle Pines Cooperative, where he served on the board.
Go-to websites: TechCrunch, Crunchbase, ESPN, USA Today, Domo and LinkedIn
Downtime: Golf ("absolutely terrible at it"), audio books ("I commute from Zionsville to Greenwood"), and "chasing my 2- and 4-year-old around the house."•
Check out more CFO honorees..
Please enable JavaScript to view this content.