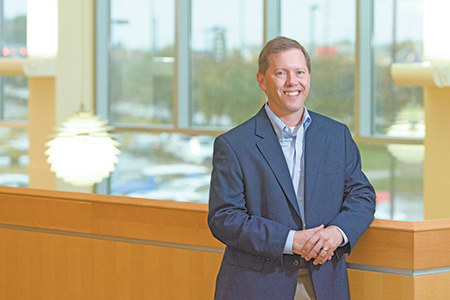 Chief Financial Officer 
OrthoIndy
Physician-owned OrthoIndy is spread over more than 10 locations, including its own specialty hospital. Anthony Gioia, with the company since 2005, has guided the company through a minefield of industry and regulatory changes and has been instrumental in the opening of urgent care clinics, managing the group's relationship with St. Vincent, and growing the hospital. He also serves as trustee of OrthoIndy's charitable trust.
Education: "I first became interested in finance my sophomore year of high school when I took my first accounting class," Gioia said. "It made sense, was logical to me, and my grades in the class were good," which led him to earn a bachelor's in business from IUPUI.
The road: Before joining OrthoIndy, Gioia worked with brokerage house R.J. Murphy & Associates and accounting firm Slattery & Holman PC.
Major company achievements during his tenure: When Gioia joined the company, OrthoIndy was a traditional physician group with a surgery center. But the steel was going up on its hospital, and Gioia was a key player in defining and building the processes, procedures and other infrastructure necessary for the ambitious venture to run smoothly. "It was almost like working with two companies," he said. "One existing and one a startup."
Recent business challenge: "We are continually looking for and evaluating new opportunities to not only reduce our own health care costs but also those of the community," Gioia said. "One example to try and help the community is by opening more urgent care centers to allow patients to get quality orthopedic care without having to go to the ER."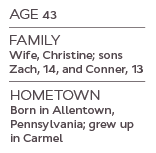 Docs on board: Working with a physician-owned company with a board made up of doctors has its advantages. "It's a great thing for flexibility and the ability to make change and move at a fast pace," Gioia said, while noting that "it's a challenge to keep everybody satisfied. Sometimes we joke that my job is to keep everybody equally unhappy."
Beyond the office: Gioia said that, by far, one of his favorite meetings of the month is with the OrthoIndy Foundation. The foundation, which Gioia helped found in 2013, has committed $3 million to the in-the-works Pike YMCA, a facility that "will be in our own back yard. The more we got to know them, the more committed we became." The unique facility will be the first veteran-centric YMCA in the United States. Gioia has also worked on Habitat for Humanity houses sponsored by the foundation and builds accessibility ramps with Servants at Work.
Go-to website: Wall Street Journal 
Downtime: "Either golf or attending kids' sporting events."•
Check out more CFO honorees..
Please enable JavaScript to view this content.