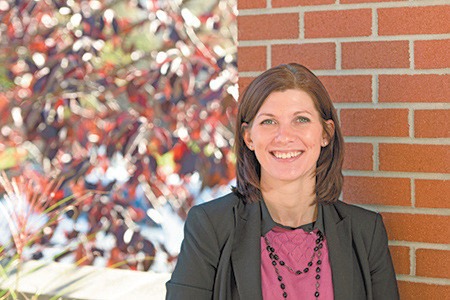 Chief Financial Officer 
The Hagerman Group
A privately owned construction company with projects ranging from Conner Prairie's new treehouse to Zevacor Molecular in Noblesville, The Hagerman Group brought Melanie King on board as controller in 2015 and, in less than a year, promoted her to the top financial spot. She also oversees information technology for the fourth-generation, family-owned company that brought in $160 million in revenue in 2015.
Education: King admitted that "nobody at age 7 or 8 says, 'I want to be an accountant.'" But the bug did bite in high school and, she said, "It just clicked." Inspired, she headed to Purdue University, where she earned her bachelor's in accounting.
The road: An internship at Great Lakes Chemical Corp. helped considerably once King joined Ernst & Young LLP, where Great Lakes was a client. Knowing some of the accounting policies and internal processes there led her to focus on manufacturing clients with a manager who also had a subset of construction clients. Construction accounting, she noted, "can be a little quirky—it's not always the easiest. And once you get in, they keep you in that industry." A stint at Deem LLC, a mechanical and engineering company, lasted 12 years, but with a CFO who didn't indicate if she would retire and without a succession plan in place, King opened herself up to finding a company with a department she could run. She found it at The Hagerman Group.
Major company achievements during her tenure: Although she inherited a great group of individuals, they "seemed disjointed—each of the team members seemed to operate independent of each other, even those performing the same functions, and the offices rarely communicated." Knowing the importance of bringing the group together, she focused on communication and training so the team could more effectively share ideas and best practices. She also implemented new technology to make the process more efficient for the accounting department and for project managers, eliminating some paperwork and facilitating better communication between the accountants and project managers.

Recent business challenge: "Communication will always be a challenge, so it is something you have to constantly work on. I encourage my team to share information or work together anytime they can. As part of that, I strive to get financial information to the appropriate individuals as soon as possible. This allows everyone to make educated decisions quickly and with the most up-to-date information. As a team, we are always looking for ways to improve our processes and procedures in order to achieve our goals."
Mentor: Scott Miller, president of The Hagerman Group. "He's the guy who is always asking, 'Can we do better?' And the answer is always, 'Yes.' He's always challenging me and the rest of the leadership team."
Go-to websites: Indiana CPA Society, Construction Financial Management Association
Beyond the office: King volunteers for the Indiana CPA Society, Girl Scouts and the Noblesville Swim Club.
Downtime: reading, exercising, watching swim meets and helping sell Girl Scout cookies•
Check out more CFO honorees..
Please enable JavaScript to view this content.