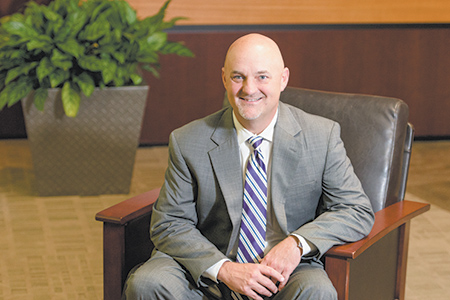 Executive Vice President, Chief Financial Officer 
Duke Realty Corp.
Duke Realty, one of the nation's leading commercial real estate companies with 138 million rentable square feet of industrial and medical-office assets, has properties in 21 major U.S. markets. Heading a team of more than 120 associates, Mark Denien has raised $2.1 billion in new capital in the last 18 months while retiring $830 million in bonds and leading a reduction in debt of more than $1.4 billion. "The story may not be sexy, but the execution has been impressive," Denien said. "We've moved a lot of chips around the poker table both on the asset and balance-sheet sides. … Now everything is set up beautifully."
Education: Denien still goes back every semester to guest-lecture at the Indiana University Kelley School of Business, from which he earned his degree. "I know now I didn't take enough communications classes," he said. "In the world we live in, I'm always communicating up to my boss, down to my staff, across to my peers, and externally to investors and agencies."
The road: Denien thought he had found his niche at KPMG, where he practiced public accounting for 16 years and became a partner in its real estate practice. But while he still loved his job, he found that government regulations and other factors made it less satisfying than it once was. An opening at Duke Realty—a favorite client that happened to be his first at KPMG and his biggest—lured him away. He joined as chief accounting officer, becoming CFO in 2013.
Major company achievements during his tenure: Transitioning the company from a multi-product (office, industrial, mixed-use, residential, retail, medical office) entity into a low-leveraged industrial and medical-office company. "Transformation," he said, "has resulted in superior total shareholder returns compared to peer companies and overall major indices."
Recent business challenge: "Transformation of assets from many types to just two has resulted in fairly flat [earnings growth] over the last several years and also large amounts of capital being raised that needed to be redeployed," Denien said. The result: Challenges in messaging flat earnings growth to investors so they understood the positive benefits to the company in cash flow and a stronger balance sheet, leading to outlook upgrades from rating agencies.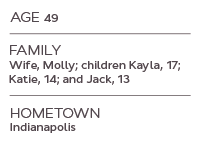 What's in a name? "When people ask me what I do, I don't say I'm an accountant or CFO or finance person," Denien said. "I say I'm in the real estate business. Because that's what I really do. Everything comes back to real estate."
Inspiration: Denien was the first kid in his family to go to college, where he applied a work ethic learned from his mother, a grocery store cashier, and his father, an auto mechanic who later taught at a vocational high school.
Go-to websites: Yahoo Finance, Wall Street Journal, Amazon
Beyond the office: Denien is an advisory board member of the IU Center for Real Estate Studies. He introduced the Duke Realty CFO Award for Diversity/Community Service to encourage service on the part of Duke employees. And he serves as treasurer of Goodwill Industries of Central Indiana. "People think of Goodwill as the funny guy on the commercials and the retail stores where you drop off or buy things," he said. "That's the engine, but that engine is used to drive a lot of different social activities that make our community a better place."
Downtime: golf, travel and attending his kids' sporting events•
Check out more CFO honorees..
Please enable JavaScript to view this content.