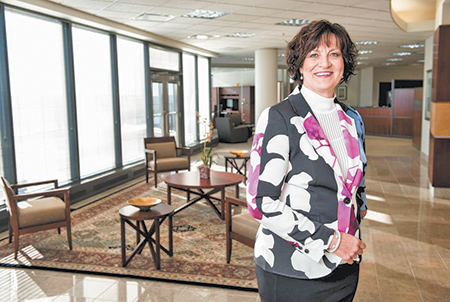 Executive Vice President, Chief Financial Officer 
Vectren Corp.
Providing energy to more than 1.1 million customers through the operating utilities of its wholly owned subsidiary Vectren Utility Holdings Inc., Vectren Corp. is an anchor institution in Evansville. The company's first female executive, M. Susan Hardwick, is a pioneer in a male-dominated business. At a recent CFO meeting in Arizona, "there were 50 people in the room," she noted, "and I was the only woman." But rather than wait for the world to change, Hardwick has been instrumental in recognizing and developing female and minority talent within the company. As for the business itself: "People think of utilities as being boring," she said. "But it's a very exciting industry, constantly changing and challenging."
Education: bachelor's in accounting from Indiana University
The road: "My only real goal professionally was to work with Arthur Andersen, which was the gold standard if you were an accountant," Hardwick said. But an eight-year stint there turned out to be only the beginning. Rising to senior manager, she "did a lot of utility work. It was randomly assigned, but I learned to like it." Her expertise took her to PSI Energy/Cinergy and then Vectren in 2000. She became its chief financial officer in 2014, with executive vice president recently added to her title.
Major company achievements during her tenure: Hardwick was brought in as the first controller for Vectren as it was being formed from the merger of Indiana Gas Co. and Southern Indiana Gas and Electric Co. She said her outsider status was a plus. "You come in with no bias—no preconceived ideas of how things should work," she said. "That was a real advantage." Her ace in the hole was the experience of having worked on the merger of PSI Energy and Cincinnati Gas & Electric to form Cinergy Corp. "I had an advance warning of how things might go—the 'us vs. them' thinking—and was able to help diffuse some of that early on."

Recent business challenge: "The continued evolution of the electric industry in the face of major environmental regulation. … We live in a territory that is average at best in terms of income. Our customers will be challenged to pay the bills that will come their way once all of these regulations come through. That's an area we focus on quite a bit." 
Inspiration: Her mom. "I was born with only one arm," Hardwick said, "and my mother, from the beginning, determined that that wasn't going to be any sort of limitation. She didn't coddle. I had chores. I had to do everything my brother had to do. And thanks to her, I never felt that there was anything I couldn't do."
Beyond the office: Hardwick serves on the boards of Fifth Third Bank (Southern Indiana), the Evansville Museum of Arts, History and Science (past president), the Accounting Circle of the University of Southern Indiana, and St. Mary's Medical Center. "[Vectren is] a big fish in a relatively small pond," she said, "so people came knocking right out of the gate when I first came to Evansville. Now I'm much more discriminating because of time."
Downtime: Hardwick has a house full of antiques, focusing primarily on furniture from the early 1900s and Depression-era glass.•
Check out more CFO honorees..
Please enable JavaScript to view this content.