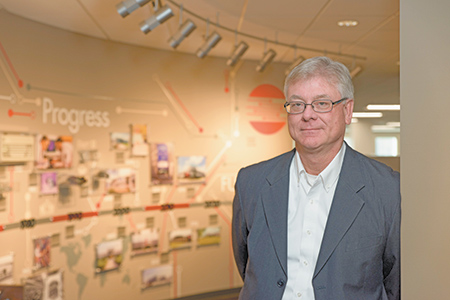 Vice President, Chief Financial Officer 
Kimball Electronics Inc.
NASDAQ-traded Kimball Electronics, headquartered in Jasper, specializes in durable electronics for the medical, automotive, industrial and public safety markets. A 35-year employee of the company, Mike Sergesketter was central to the company's global push.
Education: As a high school student working part time pumping gas and stocking shelves, he listened when "the owners were always talking about how they had to manage their cash to pay the bills and hopefully have a little left over for themselves," recalled Sergesketter, who found himself occasionally posting the books. "I found it very interesting how they tracked costs and measured their profits." The interest led him to the University of Southern Indiana in Evansville, where he earned a bachelor's in accounting with a minor in information technology.
The road: Sergesketter thought, like most college graduates, that he'd go through a couple of company changes before finding the right fit. But he found that fit right away with Kimball, where he started as a staff auditor. At that time, revenue was around $256 million. "Today," he said, "we're approaching $900 million with a goal to be at a billion in 2018."
Major company achievements during his tenure: "The one I am most proud of," he said, "was the decision to take the company global." He was part of a small team sent to explore locations in China and Thailand. "Over the next few years, we launched several initiatives to expand our global footprint." Kimball now has locations in Thailand, China, Poland, Romania and Mexico.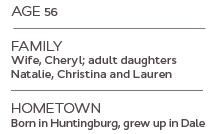 Recent business challenge: In January 2014, Kimball's parent company decided to spin off its electronics segment into a stand-alone public company. "I was in China traveling with my boss when he pulled me aside and informed me that the decision had been made, and the target date was the end of October for the separation. … Over the next nine months, we had to select our team, put together an organization that could support a stand-alone public company, and learn the new processes that we had not had to deal with as a segment of a public company. We also had to understand how this would impact our cost structure and profitability." Sergesketter and his team were able to complete the spin-off without affecting operations. "It was a huge undertaking and challenge, but with great teamwork and dedication we met the challenge."
Heading off headhunters: "I get calls pretty regularly," he said, "but my roots are pretty deep. I like what I do, and they've treated me very well here."
Beyond the office: An active member of his church, Sergesketter served on the church council and volunteers with the parish's youth organization.
Downtime: Sergesketter finds his bliss in restoring cars and is working on a '57 Chevy pickup and a '66 Chevy Chevelle Malibu.•
Check out more CFO honorees..
Please enable JavaScript to view this content.