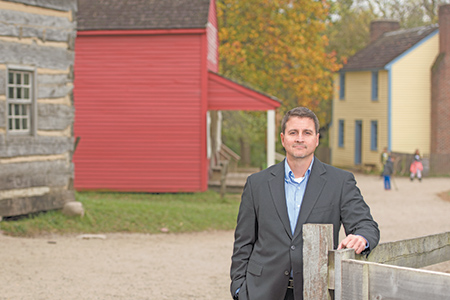 Vice President, Chief Financial Officer 
Conner Prairie
Kyle Wenger oversees all financial aspects of one of the nation's leading living-history attractions—and one of Indiana's top tourism draws—including its $12 million annual operating budget and a public foundation that oversees a $90 million endowment.
Education: Growing up in a lower-middle-class family with limited contact with the business world, Wenger credits Junior Achievement with nurturing his interest in finance. The once-a-week program put him face-to-face with real businesspeople who "treated you like an adult," Wenger said. "I learned from these folks and they gave me an opportunity to challenge myself." Inspired, he went on to earn a bachelor's in accounting from Indiana University.
The road: Before joining Conner Prairie, Wenger worked for Marsh Supermarkets as a financial analyst, then as manager of planning and financial analysis before becoming CFO of Marsh's wholly owned subsidiary, Crystal Food Services.
Major organization achievements during his tenure: Since joining Conner Prairie in 2009, Wenger has led efforts to operate with a balanced budget every year, negotiating new partnerships and renegotiating long-term contracts to significantly increase annual revenue and lower expenditures. One of Conner Prairie's biggest challenges continues to be managing the draws it takes from its endowment. "The museum continues to struggle with balancing wonderful ideas for new programs that are greatly needed and the limited resources—employees, time and funding—available to successfully execute them," Wenger said. "'No Margin, No Mission' has become one of our many mantras. With more than 850 mostly undeveloped acres in Hamilton County, we are aware we must be both creative and cautious when exploring ways to monetize the myriad of assets under our control."
Recent business challenge: As of Dec. 1, a U.S. Department of Labor rule change means that employees making less than $47,476 annually will become hourly workers—which, at Conner Prairie, includes many long-term managers. "All of their time will need to be tracked by time clocks or other means," said Wenger, who also noted that overtime will now come into play for those employees. "We've been monitoring the progress of this proposed change for well over a year and early on put measurement tools in place to gauge its impact." A plan is in place that Wenger hopes will minimize the negative impact for all parties involved, although "to tell a 10-year employee that he has to go to hourly can be demoralizing," he said.

Growth opportunities: "Our board has evolved from ultra-conservative to one willing to take a little bit of risk with controlled growth," Wenger said. Growth, he said, is necessary, even for a museum known for staying true to the past. "We have to demonstrate our relevancy not just to schoolteachers but to everyone in the community. I used to just hear, 'I was out for Symphony on the Prairie,' but now it's microbrewers and, 'Did you fly in the balloon?'"
Beyond the office: Wenger is volunteer treasurer for the Hamilton County Great Banquet, a nondenominational Christian group, and served as treasurer and financial adviser for Hamilton County Habitat for Humanity. Ever tempted to go outside at Conner Prairie in costume? "No," Wenger said, "acting is not my game. I leave that to the professionals."
Go-to website: Indiana CPA Society, Wall Street Journal
Downtime: "I love being outdoors," Wenger said. "I love going to Turkey Run and Shades and McCormick's Creek. And Fort Ben is a phenomenal resource. People don't know what they're missing."•
Check out more CFO honorees..
Please enable JavaScript to view this content.