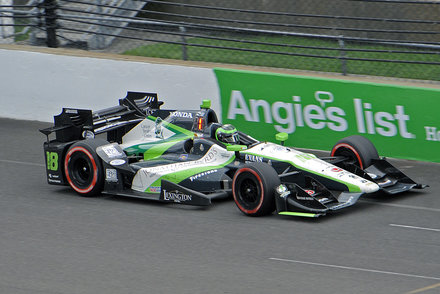 Angie's List Inc. is dropping its sponsorship of the Angie's List Grand Prix of Indianapolis after two years, leading the Indianapolis Motor Speedway to rechristen the event the IndyCar Grand Prix while it searches for a new title sponsor.
The IMS launched the road-course race on May 10, 2014, as a way to build excitement in the days leading up to the Indianapolis 500 at the end of the month. 
Weeks after the first race, Angie's List signed a two-year sponsorship under which the company paid $750,000 per year, a source told IBJ at the time. The pact, which expired after this year's race, was orchestrated by CEO Bill Oesterle, who stepped down last year and was succeeded by Scott Durchslag.
The Indianapolis home services firm—which recently announced a cost-cutting plan that included layoffs and disclosed it was exploring "strategic alternatives"—said in a statement released to WRTV-TV Channel 6 that "we thoroughly enjoyed our title sponsorship" but "opted to invest elsewhere."
 
In a statement, the IMS said: "We're thankful for the help of Angie's List in getting a new event up and running and have enjoyed the last few years of partnership. Moving forward, we believe the new event name presents an opportunity to better position and explain the race to fans and potential partners."
When Angie's List struck the sponsorship, it said the deal built on its long-term interest in IndyCar racing as a vehicle for rewarding employees and marketing to consumers. The company said the investment would help it court plumbers, electricians, roofers and other service providers that provide the bulk of its revenue via advertising.
Please enable JavaScript to view this content.