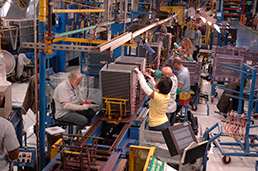 Carrier Corp. tweeted Tuesday it has reached a deal with Donald Trump to keep most of its manufacturing jobs in Indianapolis rather than moving them to Mexico—a significant win for the president-elect, who plans a trip to the city to detail the deal.
Carrier announced in February that it would move 1,400 jobs south of the border, a decision that gained national attention after a worker recorded the announcement and posted it on social media. Trump then used the controversy as an example of what's wrong with American trade policy. He made keeping manufacturing jobs in the U.S. a key campaign theme.
After his election, Trump said he was negotiating with Carrier to stop it from eliminating Indianapolis jobs.
Then on Tuesday night, the company tweeted: "We are pleased to have reached a deal with President-elect Trump & VP-elect [Mike] Pence to keep close to 1,000 jobs in Indy. More details soon."
We are pleased to have reached a deal with President-elect Trump & VP-elect Pence to keep close to 1,000 jobs in Indy. More details soon.

— Carrier (@Carrier) November 30, 2016
A Trump transition official confirmed that the president-elect and Pence would appear with Carrier officials on Thursday. The official insisted on anonymity because the official was not authorized to discuss the trip ahead of an official announcement.
The event in Indiana will be a rare public appearance for Trump, who has spent nearly his entire tenure as president-elect huddled with advisers and meeting with possible Cabinet secretaries. He plans to make other stops later this week as part of what advisers have billed as a "thank you" tour for voters who backed him in the presidential campaign.
Chuck Jones, president of the local United Steel Workers Local 1999, told IBJ he didn't have any details about the Carrier deal.
Sen. Joe Donnelly, D-Indiana, said he's eager to hear the details but said it's "welcome news for the Hoosier workers who will keep their jobs."
"While this is good news, in Indiana alone, there are at least two other companies currently planning to move Hoosier jobs out of the country," Donnelly said. "We need to change our laws to encourage companies to grow here at home. I hope President-elect Trump will work with me toward this goal, so that companies will invest in the foundation of our economy: our workers and our communities."
Carrier, a division of United Technologies, manufactures heating, ventilating, air conditioning and refrigeration systems at its plant at 7310 W. Morris St. on the west side of Indianapolis. Job losses were scheduled to begin in 2017 and continue through 2019.
"Since February, Indianapolis has been united in working with state and federal partners to help those families affected by Carrier's shortsighted business decision," Indianapolis Mayor Joe Hogsett said late Tuesday in a written statement. "I am hopeful that President-elect Trump's efforts will keep many of these jobs here in Indianapolis and I trust our national leaders will continue working alongside us to assist the Carrier workers whose jobs will still leave in the coming years, as well as the families affected by the recent Rexnord announcement and the thousands more in our community who deserve full-time employment and a living wage."
United Technologies Electronic Controls—also a unit of United Technologies—announced in February that it will move its manufacturing operations in Huntington to a new plant in Mexico, costing the northeast Indiana city 700 jobs by 2018. Those workers make microprocessor-based controls for the HVAC and refrigeration industries.
There was no word Tuesday night about those jobs.
Hartford, Connecticut-based United Technologies Corp. is a Fortune 500 company with $65 billion in revenue.
In a September debate against Democratic rival Hillary Clinton, Trump railed against Carrier's plans.
"So many hundreds and hundreds of companies are doing this," Trump said. "We have to stop our jobs from being stolen from us. We have to stop our companies from leaving the United States."
Carrier wasn't the only company Trump assailed during the campaign. He pledged to give up Oreos after Nabisco's parent, Mondelez International, said it would replace nine production lines in Chicago with four in Mexico. He criticized Ford after the company said it planned to invest $2.5 billion in engine and transmission plants in Mexico.
Jones, president of United Steelworkers Local 1999, which represents Carrier workers, said of Tuesday's news: "I'm optimistic, but I don't know what the situation is. I guess it's a good sign. … You would think they would keep us in the loop. But we know nothing."
Please enable JavaScript to view this content.