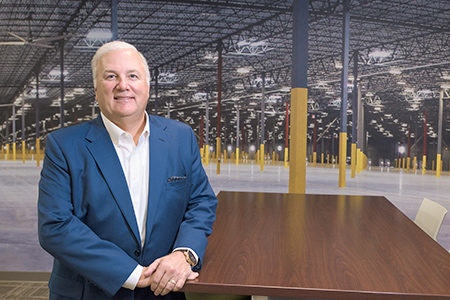 Nearly 10 years ago, in the depths of the recession, executives of Duke Realty Corp. began mapping out a strategy to narrow the company's focus.
The Indianapolis-based developer's portfolio of properties had become too unwieldy for real estate investors that began to prefer specialization. So Duke undertook a multiyear plan to shed its biggest piece of business—billions of dollars in office assets—and pivot toward more promising industrial projects.
Today, as Duke prepares to unload the last of its office holdings, a red-hot industrial market is helping ease any remaining investor jitters from the company's big gamble.
"I would love to tell you that seven, eight, 10 years ago, we were absolutely brilliant and we knew that industrial and medical would be the two hottest classes, but I won't be so egotistical to say that," Duke CEO James B. Connor said. "Timing is everything."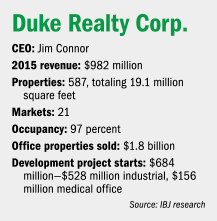 Connor, 58, has been at the helm since Jan. 1, taking over for Dennis D. Oklak, who remains Duke's chairman. Connor's ascension from chief operating officer couldn't have come at a better time for the company.
In that short span, Duke has raised its development guidance twice, to $700 million of projects in the pipeline, spanning from California to New Jersey. In addition, the company posted third-quarter profit in late October of $112.0 million, up from $76.4 million in the year-ago period.
Duke's decision to exit the office market and double down on industrial comes as that sector benefits from a variety of favorable trends, including the growing popularity of e-commerce. In the third quarter, overall occupancy was 97 percent—the highest in the company's 44-year history.
"It's just a very steady and favored product class among investors," said Jeremy Woods, an industrial broker at the local CBRE office. "It doesn't tend to have the ups and downs as an office product might."
From the mid-1990s into 2007, Duke spread its operations among several sectors, including office, industrial, medical, retail and residential. But investors weren't responding to the business model, recalled Connor, who joined Duke in 1998 to run its Chicago industrial operations.
"We found ourselves at the peak of 2007 running all of these businesses and the bottom fell out of the real estate market in the U.S.," he said. "We started a strategic review of the business and said, 'We've got to change this; we've got to simplify the model.'"
At the time, office properties represented 55 percent of Duke's portfolio; industrial, 40 percent; and medical office, 5 percent. Under the first phase of the plan, completed in 2013, Duke increased its industrial holdings to 65 percent and medical office to 15 percent while reducing office to 20 percent.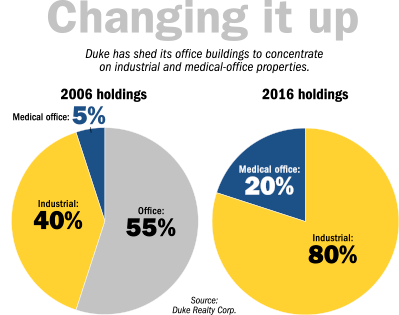 Now the company is in the final stage of exiting the office market altogether to concentrate on industrial, which accounts for 80 percent of the portfolio, and medical-office projects, which account for the other 20 percent.
The developer, in the process, has shed $6.5 billion in assets, including Parkwood Crossing, its signature office park in Indianapolis. A partnership between Philadelphia-based Rubenstein Partners and Strategic Capital Partners of Indianapolis announced in August that it paid an eye-popping $162.9 million for the 1.2-million-square-foot complex at Interstate 465 and North Meridian Street.
Consisting of eight buildings developed by Duke from 1989 to 2005, the park is 95 percent occupied, according to IBJ statistics. Duke has signed a 10-year lease with the new owners to keep its headquarters there, Connor said.
Duke's remaining two office parks in the city, Hamilton Crossing and Interactive Intelligence Park, are under contract and should close by the end of the year or in early 2017, he said. That will leave just a few scattered office properties in Houston and the Washington, D.C., area.
"We're on about the 1-yard line," Connor said.
To avoid upsetting the balance sheet, Duke matched dispositions with acquisitions and new developments. Coming out of the recession, opportunities to buy industrial and medical-office properties were plentiful. But in 2014, acquisitions started to become pricey, so Duke shifted to development, Connor said.
Wall Street is reacting kindly to Duke's strategy. Shares are trading above $24, nearly 17 percent higher than at the beginning of the year. Investment brokerage RBC Capital Markets, though, thinks they could go higher and had set a price target of $30 per share before cutting it to $28 per share on Nov. 22.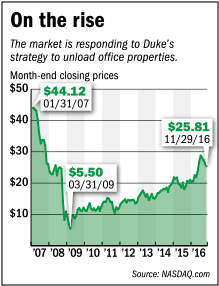 "The industrial market is benefiting from consistent fundamental tailwinds as demand continues to broadly exceed expectations," RBC analyst Michael Carroll wrote in an Oct. 31 report.
And Stifel proclaims in an Oct. 27 report that Duke is "so dialed in, it's boring. Boring is good."
"We maintain our 'buy' rating as Duke is well-positioned to grow its development pipeline to take advantage of strong industrial fundamentals nationally while maintaining a very conservative balance sheet," Stifel analyst John W. Guinee wrote.
Indianapolis' industrial sector is no different, performing strongly in the third quarter and posting 2.9 million square feet of net absorption. That brought the year-to-date increase in occupancy to a "staggering" 7.4 million square feet, CBRE said in its latest report.
Higher occupancy caused the vacancy rate to decline for the fourth consecutive quarter, taking it in the Indianapolis area to a new low of 5.6 percent, CBRE said.
"Everyone is pretty bullish," Woods at CBRE said. "We don't see an end to it."
E-commerce tenants are driving much of the demand.
In partnership with Browning Investments, Duke in 2014 built a 1.2-million-square-foot warehouse at its AllPoints Midwest industrial park in Plainfield for Wal-Mart Stores Inc. to service online orders.
And in September, Duke sold a 937,000-square-foot building, also at AllPoints Midwest, to retailer Kohl's Corp. for the same purpose.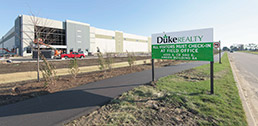 Duke's projects include a 700,000-square-foot spec warehouse it's building in the AllPoints at Anson industrial park in Whitestown. (IBJ photo/Eric Learned)
The massive warehouses that cater to online shoppers are responsible for most of the new construction.
They're designed differently from traditional retail distribution centers, which put pallets of product on a truck to be shipped to stores. E-commerce centers, on the other hand, are designed to push products out the door in single packages shipped to consumers via UPS or Federal Express.
Duke's local projects under construction include a 350,000-square-foot parts distribution center it's building for Daimler Trucks North America and a 700,000-square-foot spec warehouse. Both are in AllPoints at Anson in Whitestown.
Nationally, the company is developing projects in California, Florida, Georgia, Illinois, Maryland, New Jersey and Texas.
In November, Connor and other Duke executives were asked by an analyst at a conference in Phoenix to choose a song that best describes the company's outlook for 2017.
After a bit of deliberation, they settled on Led Zeppelin's "The Song Remains the Same."
"It's not really fun; it's not sexy, but we're going to keep doing the same thing," Connor said.•
Please enable JavaScript to view this content.