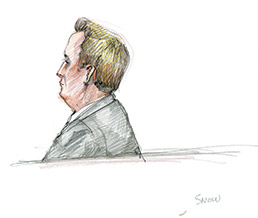 Rick D. Snow argues that a recent change in sentencing guidelines works in his favor. Unlike co-defendants Tim Durham and Jim Cochran, Snow wasn't accused of looting the company.
(File court sketch)
Rick D. Snow—who was convicted in 2012 of helping Tim Durham and Jim Cochran loot Fair Finance Co. but didn't raid the company's coffers himself—is seizing on that fact in an effort to get his 10-year sentence reduced.
The 53-year-old Snow, who served as chief financial officer of Akron, Ohio-based Fair, on Oct. 28 filed a motion on his own behalf asking a federal judge to revisit his sentence so he can benefit from a recent change in federal sentencing guidelines.
The change, known as Amendment 794, provides additional sentencing guidance based on a defendant's level of culpability in a crime. The amendment went into effect in November 2015.
In part, the amendment to the guidelines reads, "a defendant who does not have a proprietary interest in the criminal activity and who is simply being paid to perform certain tasks should be considered for an adjustment under this guideline."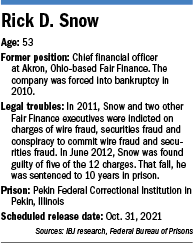 During the Fair Finance trial, Snow's defense attorney, Jeffrey Baldwin, argued that Snow did not join with Durham and Cochran in taking money out of Fair, had little real authority over its finances, and had no ownership of the company.
But the lead prosecutor in the trial, and even Baldwin, say Snow—who is imprisoned in Pekin, Illinois—should not get his hopes up.
Assistant U.S. Attorney Winfield Ong said the amendment applies only to petitioners awaiting appeal. Snow has already passed that point—his conviction and sentence were affirmed by the U.S. Court of Appeals in 2014.
"As a legal matter, this does not apply to him after his direct appeal is exhausted," Ong said. "I think that's what the law says, and we have had courts rule that here."
Baldwin, who said he talked to Snow about his motion but was not involved in its filing, said another problem is that the sentence handed down by federal Judge Jane Magnus-Stinson already was significantly below the 85 years recommended under sentencing guidelines. Because of that reality, Baldwin said, he declined to file the motion.
"I didn't see that this was going to help his sentence," Baldwin told IBJ.
Fair Finance, founded in 1934, specialized in buying finance contracts from fitness clubs, time-share condominium developers and other firms that offered their customers extended-payment plans. But in the years after Durham and Cochran bought the company in 2002, that business shrank. In the same span, the owners pulled tens of millions of dollars out to support their lavish lifestyles.
A federal jury in 2012 convicted Durham of masterminding a Ponzi scheme that relied on Fair's sale of ever-more-unsecured investment certificates to unsuspecting mom-and-pop investors. More than 5,000 investors were owed $208 million when the company shut down in late 2009. A bankruptcy trustee has since doled out $18 million to the investors, which works out to a 9-cents-on-the-dollar recovery.
Even though Snow's co-defendants received much longer sentences—50 years for Durham, and 25 for Cochran—prosecutors alleged Snow played a pivotal role in the fraud.
"Every step of this fraud, when Mr. Durham needed to lie about financials, he turned to Mr. Snow," Assistant U.S. Attorney Henry Van Dyck said during the trial. "Did Mr. Durham keep him tied to a chair in his office and beat him with a stick" when he needed something?
"No," Van Dyck said, answering his own question: It was the carrot of a $400,000 salary that kept Snow on board for seven years.
Federal prosecutors have said the Ponzi scheme was the largest in Indiana history. Fair bankruptcy trustee Brian Bash is continuing to try to reduce investor losses, in part by suing a lender he alleges knew about Durham's fraud but turned a blind eye to it because it held liens that protected it from losses.•
Please enable JavaScript to view this content.