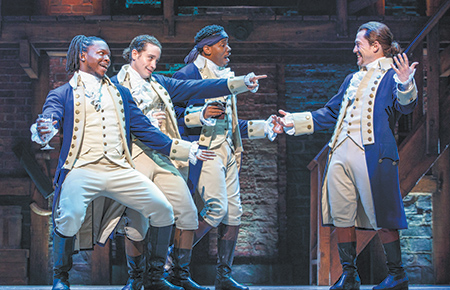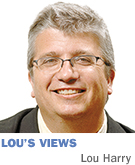 "So is it as good as it is on Broadway?"
That's the question I've heard repeatedly since I returned from hosting an Interlude Tours bus trip to see the musical "Hamilton" in Chicago.
The production, with an open-ended run at the PrivateBank Theatre, offers the first opportunity outside of Manhattan to see the epic and innovative blockbuster that inexplicably turned a founding father's bio into a pop culture phenomenon. Like "Wicked" and "The Book of Mormon" before it, "Hamilton" will be parked in Chicago for as long as tickets are selling, with seats now on sale into September. (If you don't mind sitting in the back row of the balcony, you might be able to get a single as soon as March.)
Actually, I was less concerned about the quality holding up and more concerned, now that the cast recording has become such a ubiquitous hit, that I would be surrounded by fans insisting on singing along. That, I'm thankful to report, was not the case.
And to answer that incessant question I led with: Yes, the Chicago edition of "Hamilton" is every bit as powerful, tuneful, captivating, sob-inducing and stunning as the Broadway version.
But it's different, too, which is a good thing.
While the design and direction of the original have been duplicated, I'm happy to report the Chicago company hasn't been cast with Xerox copies of the original. One of the worst mistakes a second company or national tour can make is to try to push actors to re-create what was successful on Broadway by asking them to act and to sound as much as possible like the original cast recording. That almost guarantees a show will be lifeless.
(Photo courtesy of Joan Marcus)
Here, though, the performances across the board have a freshness and vitality. As Alexander Hamilton, Miguel Cervantes doesn't have the pixie charm and doe eyes of Lin-Manuel Miranda (who, in addition to playing the lead role on Broadway, also is the show's composer and book writer). Cervantes' Hamilton initially comes across more as a product of the streets, a bit less naïve, and more aware of his own perceived flaws and limitations. Having a towering George Washington opposite him plays up his underdog self-image. But Cervantes' performance evolves just as Hamilton does, making his take on the character just as valid and fresh as, but different from, Miranda's. "Who tells your story?" asks a song from the show, but as evidenced here, "Who acts your story?" can also make a big difference in how history sees you.
Joshua Henry, as Aaron Burr, seemed even more the core of the show than did Leslie Odom Jr. on Broadway. Henry's breathtaking performance mines the anguish, humor and frustrated humanity of one of the best-written roles in the last 20 years of musical theater. Perhaps it has to do with my seeing the show for the second time, but his character's arc came through much clearer. And the showstopper-among-showstoppers, "The Room Where It Happens," expressing Burr's realization that he's outside the decision-making process, simply burned.
In "Hamilton," Eliza grows from naivete to strength. And relative newcomer Ari Afsar sings the part beautifully. (Photo courtesy of Joan Marcus)
Karen Olivo as Angelica Schuyler, on the other hand, isn't as dominating a presence as Renee Elise Goldsberry (who was recently in Indy for a benefit for The Cabaret), but I can't imagine a better voice for the part. And the courtship/wedding sequence she vocally presides over remains an amazing piece of concise, beautiful storytelling and character development.
As Thomas Jefferson, Chris De'Sean Lee is less flamboyant than his Broadway counterpart and more comedic in the Kevin Hart mold. And relative newcomer Ari Afsar makes Eliza Hamilton her own.
Collectively, they prove "Hamilton" is a vibrant, fully alive piece of theater that is open to artists' bringing their own style and talents to this historical puzzle. And they solidified for me that "Hamilton" is one of the greatest achievements in the history of musical theater.•
__________
This column appears weekly. Send information on upcoming arts and entertainment events to lharry@ibj.com.
Please enable JavaScript to view this content.