Destinations throughout Indiana no longer can count on a state marketing campaign to help drive summer crowds.
Lawmakers who passed a budget during the special session at the end of June sliced the state's annual contribution
to the Indiana Office of Tourism Management in half—from $4.8 million to $2.4 million.
One of the most severe casualties is a $550,000 promotion the agency conducts annually to kick off the
summer travel season.
It hasn't aired radio and television advertisements promoting Indiana attractions this year but could next year, when
the agency has more time to plan its budget
"Like so many people right now, we've had to make some hard decisions," said Amy Vaughan,
director of the tourism management office. "We've had to eliminate some things."
The agency also is no longer providing $200,000 in annual funding to pay part-time employees who staffed
the state's nine welcome centers. Local convention and visitors bureaus within the counties where the centers
are located hired the workers and directed the program.
Other victims of the cuts include the annual Indiana Festival Guide. It still will be published, but
now under the guise of the independent Indiana State Festivals Association. The move should save Vaughan's
office $100,000 a year.
The overall decrease in the tourism budget likely will drop Indiana further in the ranks of state tourism
spending. Indiana's state tourism budget last year already ranked a lowly 41st and is dwarfed by
neighboring states Illinois ($50 million), Kentucky ($15 million) and Michigan ($12 million), according
to the Washington, D.C.-based Travel Industry Association of America.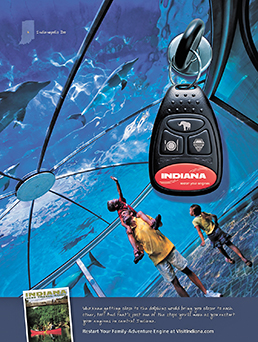 Despite pulling radio and TV spots, the state still is promoting destinations in print. (Provided
photo)
In fiscal 2007-08, Indiana's tourism budget totaled $6.6 million, counting $1.8 million the
agency generated from companies that advertised in state-produced tourism publications.
Vaughan said the weak economy could cause ad revenue to slip to about $1.5 million this year. Combined
with a state contribution of just $2.4 million, Indiana's $3.9 million in tourism spending could tumble to
47th among the 50 states.
To put the meager amount into perspective, Hamilton County alone will spend $3.1 million on tourism this
year from taxes collected on hotel rooms.
"We truly understand the budget crunch, but when you cut tourism, you're cutting potential
tax revenue," said Brenda Myers, director of the Hamilton County Convention & Visitors Bureau.
"It's a direct and immediate impact."
Yet, neighboring Ohio is facing even stiffer cuts. Gov. Ted Strickland is proposing to transition state-funded
travel and tourism marketing to a public-private partnership. The plan, opposed by state hospitality
groups, would dissolve the Ohio Tourism Division and its $6.8 million marketing budget.
Even so, the dip in Indiana tourism spending is discouraging to Sotiris Avgoustis, chairman of IUPUI's
tourism, conventions and event management department. Like Ohio, Indiana should consider eliminating
the agency if it is not going to provide adequate support, Avgoustis said.
"Promoting tourism brings money to the state," he said. "Many times we fail to make
the connection between tourism promotion and direct economic development."
Indeed, a study released in January by Ball State University found each dollar spent on tourism by county
convention and visitors bureaus generates $15 in revenue. The study didn't include the return on state spending.
The return on investment not only creates jobs but also supports state and local governments, the study said.
Will Koch, president and general manager of Holiday World & Splashin' Safari, concurred. He's expecting
a slight uptick in attendance at the theme park this year.
"It's sure disappointing for the state to reduce spending on something that is designed to
bring more people in and generate tax revenues," he said.
The outlook is not entirely gloomy for the state's tourism efforts. Legislators approved a $1 million grant program
during the special session to help ease the pain. Any tourism or convention and visitors bureau in the state can apply for
a grant capped at $50,000. Myers in Hamilton County doubts, however, that bureaus will see any of the money this summer.
In addition, $500,000 has been allotted to the Indiana Sports Corp. for a sports marketing grant program to help
county convention and visitors bureaus to attract sporting activities.
The budget cuts have forced the state tourism office to be more "innovative" in the way it
markets state attractions, Vaughan said. For instance, additions to its Web site, www.in.gov/visitindiana,
include three electronic newsletters featuring festivals, trip ideas and discounts. Roughly 70,000 people
have subscribed, and traffic to the Web site is up nearly 20 percent from last year, she said. Blogs
have been added, too.
"It's a very positive outcome on a situation that is not ideal," Vaughan said.
The tourism office also is collaborating more with county associations to share in more of the promotional
efforts, and it still produces an annual travel guide and map.
No employees of the tourism office have been laid off as a result of the cutbacks, but hiring and salary
freezes are in effect.•
Please enable JavaScript to view this content.