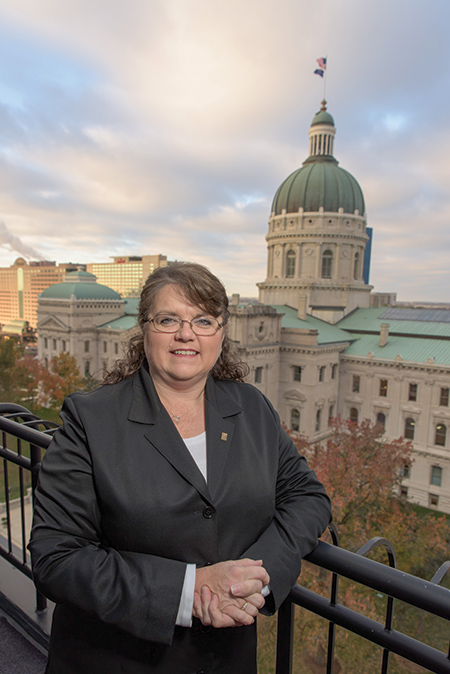 Glenda Ritz's loss in the November election was a stinging defeat for the Indiana State Teachers Association.
Throughout her tumultuous term as state superintendent of public instruction, Ritz—once a local union leader herself—used the bully pulpit as the sole Democrat holding statewide office to advocate for the teachers whose grass-roots support in 2012 had propelled her to victory.
Now, Ritz's loss to Republican Jennifer McCormick has ISTA hoping teachers' interests will continue to be represented—and it has others wondering how much clout the organization still holds.
"We're disappointed, of course, because our folks had worked so hard for Superintendent Ritz and really felt she was speaking the language of the classroom," said ISTA President Teresa Meredith. "Our core purpose really hasn't changed. We are hopeful that [McCormick] will hear and respect classroom teachers."
President-elect Donald Trump's strong showing in Indiana on Nov. 8 is a key reason Ritz—and the entire statewide Democratic ticket—lost, political analysts say.
But it also has some questioning whether the loss means ISTA has declined as a potent political force. The group, which has lost members over the years, is a major donor to Democratic candidates (though it also donates to some Republicans).
ISTA, through its Indiana Political Action Committee for Education (called I-PACE), gave Ritz more than $400,000 this election cycle. The incumbent raised about $900,000 total.
"Trump was just so strong here," said Steve Hinnefeld, an Indiana education observer who writes the School Matters blog. "That was the biggest thing, but for ISTA to spend that much money on an incumbent and to lose fairly badly doesn't look good for them as a political force."
McCormick received 180,000 votes more than Ritz and won all but 10 of Indiana's 92 counties—including 41 that Ritz had won four years prior.
Some Ritz supporters throughout the state question whether they could have done anything to change the result.
For instance, Ritz won Delaware County in 2012 and lost it this year. McCormick is from Delaware County's Yorktown, and it's likely she enjoyed a hometown advantage.
But Muncie Teachers Association President Pat Kennedy, who walked door to door, wrote postcards, shared posts on social media, and distributed yard signs to support Ritz, said her re-election campaign had a different feel than in 2012, when Ritz was a political newcomer and went up against embattled state schools chief Tony Bennett.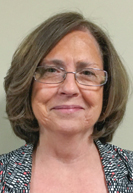 Kennedy
"Four years ago, there was such a fear factor in terms of what was happening to education and people were up in arms," Kennedy said. "This time, when people felt they had an advocate, all of a sudden they forgot to be just as passionate about getting the advocate back in office."
Julia Hyndman, president of the Fort Wayne Education Association, said she talked to some voters in her area that had what she considered "misconceptions" about Ritz's involvement in several years of education policy battles in the Statehouse. Ritz lost Allen County this year but won it in 2012.
"There was a real spin on it," Hyndman said. "If people would spend the time to look at the State Board of Education meetings, they would see a very different picture."
Despite the frustration some members feel about Ritz's loss, ISTA says it is keeping an open mind about McCormick—and its own future.
"ISTA is and will continue to be a political force," Kennedy said. But, she said, "we have to be flexible."
Ritz's loss follows a turbulent several years for the union.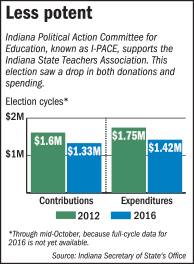 It says it has seen a slight uptick in membership recently, but numbers are still down more than 15 percent from 2010. ISTA would not release year-by-year membership numbers. But the group had about 48,000 members in 2010, according to an IBJ article, and ISTA now says membership is "closer to 40,000."
The union is just six years out from a 2010 scandal over ISTA's Insurance Trust that led to the resignation of an executive director, along with calls from then-Secretary of State Todd Rokita to freeze ISTA's assets.
At the time, some speculated that the scandal could hurt the union's ability to support candidates in that fall's election.
But grass-roots support for Ritz two years later led ISTA to experience a "tremendous resurgence of influence" in 2012, said Joel Hand, a lobbyist for the Indiana Coalition for Public Education.
Though Republican supermajorities in the Legislature and vocal detractors from the education-reform world often hamstrung her power, Ritz's win "gave ISTA a much broader platform to espouse their beliefs and preferred policies," he said.
"They don't have that now. Even if Dr. McCormick is sympathetic to and friendly to some of ISTA's positions, I doubt she will perform in that same role," Hand said.
For now, Meredith said, ISTA will continue to lobby lawmakers on teachers' behalf and try to increase its work in professional development. She said members are "clamoring for help" in that area, and "what we want to be is reflective of what our members need."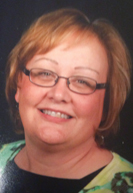 Hyndman
"Our members don't belong just because of political advocacy," Meredith said. "Even though we are the only voice for their students and their profession in the General Assembly, we know our members belong for the services, benefits and unified voice."
Some, including Meredith, are hopeful that McCormick will lead the education department much like former Republican schools chief Suellen Reed did. Reed, who served for 16 years, did not have heavily funded opposition from ISTA during her last two terms, Hand recalled.
"Dr. Reed had this really unique ability to work across the aisle in a very genuine way," Hand said.
Meredith said she met with McCormick before Thanksgiving and the two had "a really good conversation."
"I did not leave that meeting with any red flags or any feeling that she was out to harm any teachers," Meredith said. "I left feeling that she was pretty open-minded."
If the relationship goes well, she added, "it would be difficult to run anyone against her" in four years.•
Please enable JavaScript to view this content.