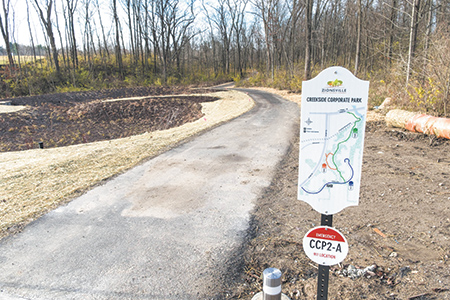 The 75 acres across the street from the corporate headquarters for Lids Sports Group in Zionsville are filled with trees and a mile of winding, paved walking trails.
The town-owned park along 106th Street just outside downtown also includes a small area with picnic tables, a basketball hoop and a stretching station.
But the park isn't meant just for recreation. It's the town's big economic development play to boost commercial tax revenue and, after years of completing the necessary infrastructure work, Zionsville is ready to start reaping the benefits.
Known as Creekside Corporate Park, the development could include more than 400,000 square feet of office space divided into about 14 parcels. The investment could total more than $100 million when the park is fully built out, according to the project's primary developer, Paul Kite.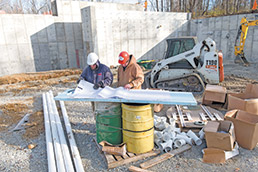 Biopharmaceutical consultant DK Pierce is building an 18,000-square-foot headquarters, which should open next summer.
(IBJ photo/Eric Learned)
The park is designed for multiple smaller office buildings, around 10,000 to 20,000 square feet, but could also accommodate several larger buildings in the range of 150,000 to 250,000 square feet.
The difference at Creekside is that the buildings will be surrounded by trees and have direct access to trails.
"There's not many things like this in metropolitan Indianapolis, let alone the Midwest," said Wayne DeLong, Zionsville director of planning and economic development. "Not many communities do this. … We're taking it very seriously."
Local officials are betting that the more than 24 acres of common green space will be a big selling point as more companies focus on employee wellness.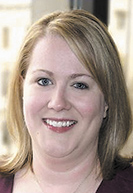 Whitehead
Molly Whitehead, executive director of Boone County Economic Development Corp., said the office park is far from the norm.
"I think the biggest, most noticeable difference about Creekside is the aesthetics," Whitehead said. "It won't be the standard box-type buildings that you might see in other areas."
The development is at least a decade in the making.
Previous owner Michigan-based Dow Chemical Co. didn't want to sell the property piecemeal when Kite expressed interest in the early 2000s.
Kite kept his eye on the land, though—knowing it could be a big win for the town, which needed to increase its commercial tax base—and, by 2013, a deal to acquire the property had been reached.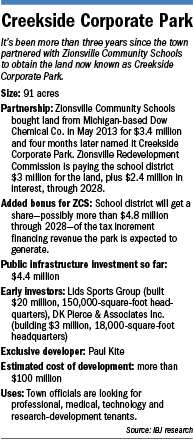 But Kite didn't buy the land. Instead, the town partnered with Zionsville Community Schools to purchase the property and agreed to use Kite as primary developer for the future office park.
The school district used $3.4 million in existing bond money to purchase 91 acres from Dow that it would then sell to the town for $3 million to be paid through 2028.
Since taking control of the land, the town has been busy installing electric, water, sewer and stormwater lines to make the area shovel-ready.
DeLong said that work is now complete, and fiber-optic cables have also been laid. In October, AT&T deemed the park fiber-ready.
The road winding through the property has also been constructed and paved. The one-mile trail system is nearly complete and connects to Main Street, at the South Village development. A bridge over Eagle Creek is expected to be added later to give employees direct access to downtown Zionsville.
The infrastructure work has cost $4.4 million to date.
Kite said it's common to do a certain amount of infrastructure work ahead of building construction, but usually amenities like the park and trail would have been added after companies started investing.
"It's a big investment, especially in this environment," Kite said. "It's very tough and the fact that Zionsville was able to do it gives it a real advantage."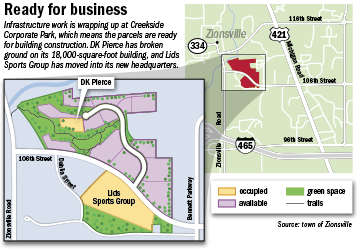 Before almost any work started at Creekside, Lids Sports Group announced it would take more than 15 acres on the south side of 106th Street for its 150,000-square-foot headquarters.
The hat retailer spent $20 million on a new office that opened in February.
On the north side of the street, where the majority of Creekside Corporate Park is located, Zionsville-based DK Pierce & Associates was the first company to buy in.
The biopharmaceutical consulting firm broke ground on its $3 million, 18,000-square-foot headquarters in August. DK Pierce, which has 23 employees now, plans to add 23 more as part of its expansion.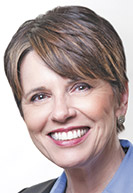 Pierce
"I could see the vision, and it was the right one for us," DK Pierce President Denise Pierce said. "It took a while because we knew we were the first, so we were testing the water. But it really has been a partnership, which I was not expecting."
She started looking more than a year ago, knowing her company was at capacity in its 5,000-square-foot office at 112 N. Ninth St. west of downtown Zionsville.
The search included other states—North Carolina, Georgia and Maryland—along with other Indianapolis-area communities like Carmel and Fishers, but "we didn't see the environment we liked," Pierce said.
The office should be completed by next July or August.
As for the remaining parcels, town officials said interest has been strong, and they expect deals to finalize in the spring.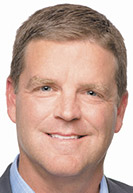 Haak
"In the last couple years, people have kind of been kicking the tires, waiting to see what the end product would look like," Zionsville Mayor Tim Haak said.
Whitehead said she's heard requests from companies that want to locate only where employees can walk to lunch. Right now, Boone County can offer nothing like that, but Creekside's trail system could connect employees to restaurants.
"This will really open up opportunities for us," she said.
Haak and DeLong pointed to Lids and DK Pierce as examples of the types of tenants they are after—corporate headquarters and companies in research and development, technology and medical, not warehouses or factories.
"We turn those people away," he said. "There's other places they can locate. We want to get the right companies in [Creekside], and we're fairly confident we'll be able to do that."
Pierce said the area is suited for other smaller companies, like hers, looking to build a headquarters but not in a standard industrial or office park.
"I think Zionsville is really taking a big risk on this, which is exciting to see because the office park really is different," Pierce said. "I appreciate that they're being picky. I don't want a full industrial park, and I know that's not what they want."
Kite said the property without frontage on 106th Street is designed for the smaller buildings, similar to what DK Pierce is constructing. The parcels along 106th Street could be used for larger facilities.
"What we're really targeting in the park is entrepreneurs who want to own, who have a business and maybe have been renting somewhere, and now they want to own their own building," Kite said. "I can't think of another opportunity to do either a medium-size office building of 250,000 [square feet] or as small as 20,000 and still be in the same park-like setting."
Kite estimated build-out would take only two to three years, and DeLong said five years would be "very doable."
"But again, we are not in any hurry to just take any business that shows up," DeLong said.•
Please enable JavaScript to view this content.