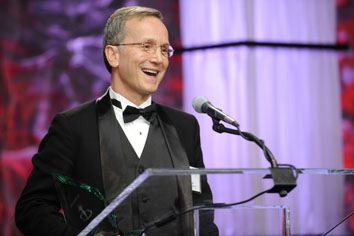 Indianapolis millionaire and tech entrepreneur Don Brown is donating $30 million to the Indiana University School of Medicine to speed up research in one of the fastest-moving and competitive areas of medicine: finding ways to use the body's own immune system to fight cancer and other ravaging diseases.
The gift, announced Tuesday, is the second largest from a non-corporate donor in the medical school's history, behind only a $50 million gift in 2006 from retail developer Melvin Simon and his wife, Bren, to support cancer research and construction of the Simon Cancer Center.
The medical school said it will use the money to establish the Brown Center for Immunotherapy to find new therapies for some of the world's toughest diseases and make them accessible to large numbers of patients.
The move could boost Indiana's reputation as a hotbed of life sciences research in one of the most closely watched areas of medicine.
In recent years, immunotherapy has attracted billions of dollars in research at pharmaceutical companies, medical schools and other research institutes. They are racing to develop new treatments for cancer, Parkinson's disease, Alzheimer's disease, lupus, rheumatoid arthritis and a host of other diseases connected to the body's immune system.
"These are really terrible diseases which may afflict people in their prime," said Brown, who earned a medical degree from IU in 1985, but never worked as a doctor.
Instead, using a graduate degree in computer science and passion for tinkering with technology, he amassed his wealth by building a series of companies over the decades.
The most successful was Indianapolis-based Interactive Intelligence Group Inc., a call-center-software maker based on the northwest side with more than 2,500 employees that was bought earlier this month by California-based Genesys for $1.4 billion.
But even as he was building tech companies, Brown said he never lost his passion for medicine. Over the past decade, he said he has spent his evenings reading voraciously about molecular biology and related fields, amazed at how fast the field immunotherapy has changed since he studied it three decades ago. In recent years, he has been taking courses toward a master's degree in biotechnology from Johns Hopkins University, and recently finished a course in immunology.
"I can think of very few fields that have seen that dramatic of change in such a short period of time," he said.
Other universities and cancer centers, too, are racing into the area, raising huge sums from wealthy individuals. In April, Napster co-founder and billionaire Sean Parker donated $250 million for a new institute for research on cancer immunotherapy. The money went to six cancer research centers, including the University of California at San Francisco and Memorial Sloan Kettering Cancer Center in New York City.
In March, Johns Hopkins University received a $125 million gift to create an institute for immunotherapy research to cure cancer. Most of the money was donated by Michael Bloomberg, former New York City mayor and tech entrepreneur, and by philanthropist Sidney Kimmel, founder of Jones Apparel Group.
The excitement is building off of some notable clinical successes in the past five years aimed at attacking forms of cancer that five years ago were almost considered death sentences. Bristol-Myers Squibb launched a new drug, Yervoy, to treat late-stage melanoma, and Merck launched one called Keytruda to treat a devastating form of lung cancer.
"The reason we're seeing money rushing into the field and everyone wanting to get into immunotherapy is because of the excitement," said Jill O'Donnell-Tormey, CEO at the Cancer Research Institute in New York City, a not-for-profit that coordinates research aimed at harnessing the immune system's power to fight cancer.
She added: "It finally takes the clinical successes that have happened in the last three to five years to convince the entire medical community that the immune system does have the potential to amazingly deliver responses for cancers that were really intractable to all other existing standards of care."
Last year, Wall Street analysts projected $35 billion in annual worldwide sales for immune-oncology drugs a decade from now. That would account for half of all spending on cancer drugs, according to market research firm IMS Health. It would also mean more money spent on immune-oncology than on all cholesterol-lowering drugs and nearly as much as is spent on all mental health drugs.
Officials at the Indiana University School of Medicine, the nation's largest medical school, said they feel the excitement, too, even though their program is younger and smaller than some others.
The school has several dozen bench researchers, immunologists, specialists in growing cells, and physicians in oncology and related specialties, said Jay Hess, the medical school's dean. Now, the $30 million gift will allow him to recruit additional people, including the new center's director and five endowed chairs.
"It's difficult to give an exact number," Hess said. "What you have to do first is recruit the leaders in the different areas where we need the expertise. … So first a director, and then researchers in such areas as immunology, neuro-immunology and genomic medicine. You always begin by recruiting top talent. We're doing that."
The money also will be used to create laboratories for the center, which will be housed in Walther Hall, one of the large research buildings on campus. There are no immediate plans to erect a new structure for the center.
Hess said IU plans to concentrate research efforts on a few immunotherapy areas, including multiple myeloma (cancer of plasma cells), aggressive types of breast cancer, and neurodegenerative disorders like dementia in Alzheimer's disease patients.
"We had been planning on doing this for a while, but we knew it would take a big investment," Hess said. "So, it was quite remarkable when we got together with Don Brown and he was very knowledgeable about where the field was going. And we quickly came to the realization we had a shared vision for what we wanted to do."
Brown, 60, agreed the timing was fortuitous. After he closed the deal with Genesys earlier this month to acquire Interactive Intelligence, he suddenly had huge resources. Brown personally reaped nearly $235 million in proceeds from the sale, according to an IBJ analysis of Securities and Exchange Commission filings.
"That's what gave me the financial ability," he said. "It's something I've been thinking about and in some ways wanted to complete this circle and actually use the money I've worked so hard to earn."
The gift is the largest to IU School of Medicine by an alumnus. Talks between the two sides started in August and moved quickly, said Elizabeth Elkas, the medical school's associate dean of development.
"This gift is the jet fuel that will allow us to propel the center forward," she said. "It's a remarkable gift and so exciting."
Please enable JavaScript to view this content.