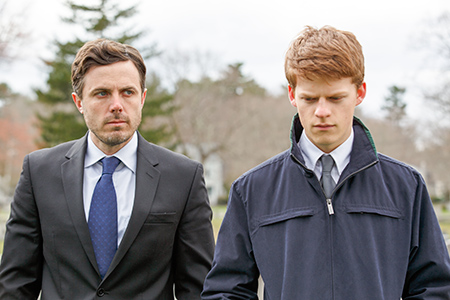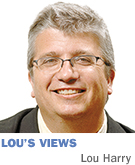 There are always asterisks when pulling together a year-end, top-10 movie list. Not only haven't I seen everything out so far (and who, honestly, would want to?), but there are some big-potential flicks on the way—such as Denzel Washington's cinematic take on August Wilson's play "Fences"—that I haven't had the chance to screen by deadline
Caveats aside, here's what rose to the top in 2016.
■ "Manchester by the Sea." Screenwriting doesn't get much better than what you'll find in Kenneth Lonergan's third film which, like his others ("You Can Count on Me," "Margaret") has grief at its core. There have been plenty of films about unwilling people thrust into parental roles—in this case, a man with a deeply troubled past becomes guardian of his nephew—but I can't think of any that have done it with this much humanity. Lonergan's alchemy comes from a rich understanding that people can be funny and truthful while they're in pain.
■ "Hell or High Water." This enormously satisfying contemporary Western involves a pair of bank-robbing brothers (Chris Pine, Ben Foster) and the Texas lawman (Jeff Bridges) on their tail. But with strong characters grounded in economic realities, the potentially dusty tale takes on greater depth while never ceasing to be an exciting action film.
■ "Born to Be Blue." Ethan Hawke gives one of the year's best screen performances as jazz great Chet Baker in this unflinching, original, uncompromising bio pic about an artist/addict trying to live up to his own reputation.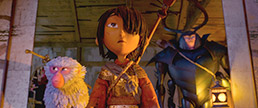 "Kubo and the Two Strings" (Photo courtesy of Laika Studios/Focus Features)
■ "Kubo and the Two Strings." Yes, I enjoyed Disney's "Moana." And I think "Sausage Party" was the best film about religion this year (I'm serious). But my favorite animated film was this one in which a boy whose eye was stolen picks up an unlikely team on his way to battle an army of evil spirits. Music and storytelling are key weapons in the fight. My only complaint is the Anglo-heavy voices for such an Eastern tale.
■ "Moonlight." I love it when filmmakers find a new way, structurally, to tell a story while avoiding the project's feeling gimmicky. Here, three actors (Alex R. Hibbert, Ashton Sanders, Trevante Rhodes) play the lead character at various stages of his life and each offers a compellingly different but nonetheless connected performance as a man trying to figure out his place in the world.
■ "Sing Street." You can have your John Hughes movies. For joyful insight into the lives of 1980s teens, I'll take this cockeyed story about a lad who forms a high-school band in order to connect with a young woman he fancies. Like writer-director John Carney's earlier film, "Once," this one understands that art grows out of who we are and where we are—and pure reasons aren't a requisite.
■ "Arrival." You'd think science fiction movies would have run out of ways to tell alien-visitation stories by now. But, no. "Arrival" finds a unique rhythm, building in suspense while it celebrates linguistics, eventually taking unexpected—and very welcome—emotionally fascinating turns.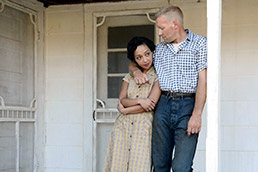 "Loving" (Photo courtesy of Ben Rothstein/Focus Features)
■ "Loving." Not all groundbreakers come across as heroes. Here's a lovely, low-key look at a real-life couple who just wanted to be a couple and, in the process, helped change the country. The film, to its credit, steadfastly refuses to traffic in "big moments," instead letting quieter truths make an impact.
■ "Hidden Figures." In contrast to "Loving," this buoyantly acted crowd-pleaser brings another lesser-known piece of history to the masses but in a more traditional, Hollywood way. The style suits this weaving together of the stories of three African-American women (played by Taraji P. Hensen, Octavia Spencer and the why-isn't-she-a-star-yet Janelle Monae), who were crucial to the early U.S. space program.
■ "La La Land." Not the most consistent movie of the year, but certainly one with more than its share of big, shiny, smile-inducing moments. It starts with a jaw-dropping gridlock dance sequence on an L.A. freeway; ends with a lengthy, bold sequence that I don't want to spoil; and, in the middle, is peppered with dewy-eyed love for both its characters and the golden age of Hollywood musicals.
And a few that almost made the list:
■ "The Lobster" has an outstandingly odd first half but then, alas, falls apart. "Rogue One" (aka "Star Wars: Episode 3-1/2") is an exciting war picture, taking a different tonal tack than the nostalgia-laced episode 7. Do yourself a favor and see it under optimal conditions at the Indiana State Museum's IMAX theater. "Eye in the Sky," but for a couple of excesses near the end, is a taut thriller about military moral quandaries. "The Handmaiden" is a gorgeous original filled with more twists and turns than any other film this year. "Lion" is a solid heart-tugger with wonderful performances that deserves a wide audience—and complimentary Kleenex. And the Jane Austen adaptation "Love and Friendship" might be a little tricky to follow, but it has the funniest scene in all of the movies I saw this year.
Also well worth attention: The first-date Obama romance "Southside With You," the big-budget/big-fun "Captain America: Civil War," the riveting, disturbing warhead documentary "Command and Control," and "Weiner," a fascinating look at political drive via the guy who should have put away his phone before getting into politics. There are also outstanding lead performances from Rebecca Hall in "Christine," Krisha Fairchild in "Krisha" and Lily Gladstone in "Certain Women," three small films that are more fascinating than fun.•
__________
This column appears weekly. Send information on upcoming arts and entertainment events to lharry@ibj.com.
Please enable JavaScript to view this content.