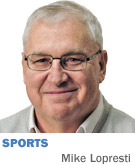 FORT WAYNE—On the office door of the Fort Wayne Auto Connection are two posters that in many ways direct the lives of the husband-wife owners inside. They are basketball schedules: one for the Fort Wayne Mastodons, the other for the Indiana State Sycamores.

Or more to the point, one for Bryson Scott's team, the other for Brenton's. Twin brothers who have both been on ESPN lately, authoring upsets that rattled college basketball in Indiana, even as they pushed the hyper-pride buttons of a father and mother. Drive home from the game, turn on the TV, and see your son on SportsCenter? A fortnight later, his brother, too? How cool is that?

"I look at it as part of their dreams coming true," Wendy Scott says at her desk. "You always want your child to have their dreams come true. To have both of them have that so close together is unexplainable."

The names Brent and Wendy Scott might not ring a bell, but if you follow basketball at all, their sons' names will. It was Bryson who had 18 points and 12 rebounds for Fort Wayne to lead the sacking of Indiana in late November, the first win over a ranked team in school history. And it was Brenton—the older twin by five minutes—who had 25 points and the game-winning free throw at 1.5 seconds to push Indiana State past Butler in December.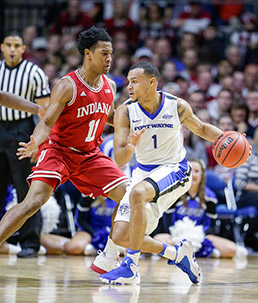 IPFW guard Bryson Scott led the Mastodons' Nov. 22 shocking 71-68 overtime win over No. 3-ranked Indiana University. Scott had 18 points and 12 rebounds. (AP photo)
Two 6-1 junior brothers, two national stories. Bryson, a transfer from Purdue who is scoring nearly 16 points a game for Fort Wayne. Brenton, lighting it up at Indiana State at 19.5 a game. But what of the parents sharing this, who admit there are moments they still get their identical twins mixed up?

Brent can tell you what he thinks started his sons' love affair with the game.

"I'm a big NBA fan. They just loved my enthusiasm with how I watched the game. So they always tried to watch me watching it. I think they wanted to imitate those guys because they wanted to impress me and their mom."

Wendy can tell you what the state's hottest basketball brother act was like growing up.

"They were the rowdiest two little kids. I'd never take them to the grocery store. They're the kind of kids who jumped on the couch, from couch to couch, or were outside from sunup to sundown, playing something."

Brent can tell you how competitive the family games could get in the driveway, with him, the twins, and older son Jay.

"We had some fighting matches. They'd get so mad at me, they'd throw the ball at me sometimes, knowing I'd discipline them. They still didn't care—that's how competitive they were."

Wendy can tell you in what ways they are different.

"I think Brenton's a little bit more relaxed personality-wise. Bryson is very determined to show people what he can do. I think he feels like he has to prove things to people since things kind of went astray for him at Purdue, but he's been like that all his life."

She can also tell you how much they're alike.

"Christmas, I might send them a picture of something I think they'll like. And both will respond to me within 10 minutes; they'll both like the same exact thing, every time. Every time. It's never failed."

Brent can tell you how hard it was during college recruiting when Bryson got the power-school offer from Purdue, and Brenton didn't.

"That kind of, like, tore us as a family a little bit," he said.

"But Brenton actually had more options than Bryson. They were more mid-majors."

Wendy can tell you what it was like when Bryson made the Indiana All-Star team out of Fort Wayne Northrop, and Brenton did not.

"Brenton has never once said that he felt like he should have had something that Bryson got. He's always been happy for Bryson. I know he would have loved to make it, but he's never told me that.

"I've always felt for Brenton on that."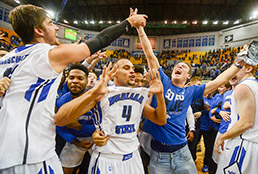 Brenton Scott celebrated with teammates and fans after sinking a free throw with 1.5 seconds left that sealed Indiana State's 72-71 win against Butler Dec. 7. Scott was also the Sycamores' leading scorer, with 25 points. (AP photo)
Brent can tell you about his mixed feelings when the two brothers, teammates since birth, took different roads in college.

"At first, we wanted them to be able to play and grow together. But as we thought about it more, we thought it might be better for them to separate so they could grow away from one another. So they could not just be identified as twins; they could be identified as Bryson and Brenton."

Wendy can tell you how college has not diminished how close they are.

"Christmas last year, my husband came to bed at, like, 2 in the morning. He said, 'I've been sitting on the couch and Brenton and Bryson have been in the kitchen and I listened to them talk and laugh for hours.' They've always been best friends. Being apart was something that they did have to get used to when they separated at first. But they handled it well and they met new friends on their team that helped them through the journey.

"I see them both hugely maturing since they went to college, and individually-wise [because of not] being with each other. We love seeing that."

Brent can tell you how he figured them to be football players in the beginning.

"Actually, that's what I kind of wanted them to be like. The next Rod Woodson. But we ended up meeting the Blackmon family (James Sr. was an AAU coach, son and future Indiana Hoosier James Jr. a player). Then basketball became 24/7."

He can also tell you about the AAU tournament when they went against Aaron and Andrew Harrison, who would one day star for John Calipari's Kentucky Wildcats.

"The twins almost got into a fistfight with the twins, it was so competitive."

Wendy can tell you about the full collection of Fort Wayne and Indiana State sweatshirts in her closet. But for some reason, she wore a plain blue top to the Indiana game. That worked out pretty well, so she took the same shirt 200 miles for Indiana State-Butler.

"I don't want to be superstitious, but it's easy to be."

Brent can tell you about how tough it is to drive home late at night from far-flung arenas.

Wendy can tell you who carries the burden.

"I'm always driving, so he's always snoozing."

And she can tell you why neither sleet nor hail nor dark of night will ever stop them from seeing as many games as they can. Why, the morning after Bryson and Fort Wayne upset Indiana, they were on the road early to get to the airport to go to Florida for Brenton and Indiana State.

"I always try to make sure my boys see me, just so they know we're there. Not that they don't have other things on their mind, but they do look around."

Brent can tell you his thoughts about his sons' teams ever meeting in college.

"Personally, I'd like to see them play."

Wendy can tell you her thoughts.

"It would be good for fans. It probably wouldn't be good for me."

Brent can tell how this is a reverent family, certain that however long the basketball brother saga lasts, it is a blessing from God.

"When it ends, I'll be thankful. I'm thankful now. If it ended today, I wouldn't be upset. We'd just look for another journey to impact people in a different way.

"Until then, I'm going to keep trying to push them to get better."

Ask them their plans for the holidays, and both Wendy and Brent Scott know just what to do. They double-check the schedules on their door. Yes, the twins will be home for Christmas.•

__________

Lopresti is a lifelong resident of Richmond and a graduate of Ball State University. He was a columnist for USA Today and Gannett newspapers for 31 years; he covered 34 Final Fours, 30 Super Bowls, 32 World Series and 16 Olympics. His column appears weekly. He can be reached at mlopresti@ibj.com.