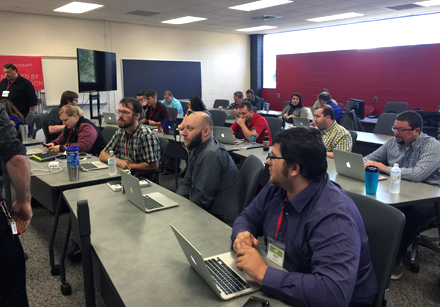 In a few weeks, Carmel-based coding academy Eleven Fifty Academy will wrap up a training program in the middle of Kentucky's coal country.
It marks the first time the not-for-profit has had its instructors teach computer programming curriculum outside of Indiana, but it probably won't be the last.
"We've been approached by many states interested in our not-for-profit methodology and our approach to coding bootcamps," said John Qualls, president of Eleven Fifty, mentioning Wisconsin, Ohio, Arkansas and Missouri.
"And we just felt like this was a great opportunity to take it for a test drive and see what it takes to do it in another state."
The 20-week stint in Kentucky is under a program called TEKY, or TechHire Eastern Kentucky. Funded through the Obama administration's TechHire initiative, the public-private partnership enlisted Eleven Fifty to train up to 50 Kentuckians, including former coal miners, how to code. The inaugural class of 32 students graduates Jan. 4.
TEKY not only pays the students $400 a week to attend classes, but has lined up paid internships for them at a software development firm and direct paths to a job there. The company is Louisville-based Interapt, which initially reached out to Eleven Fifty. Big Sandy Community College is another TEKY partner.
The program takes place in Paintsville, Kentucky, a city about 20 miles west of the West Virginia border that's battling an unemployment rate near 20 percent. About 900 people applied, and that number was whittled down to 50. Some of those accepted parted ways for one reason or another, Qualls said.
"It's no joke—it's 420 hours," Qualls said. "It's not for the faint of heart."
Qualls said he hosted some of the TEKY stakeholders this week to discuss plans for TEKY 2, slated for the third quarter of next year. But even while that's in the works, he's mulling where else he might replicate his coding bootcamp.
He said his main consideration when it comes to expansion is student outcomes. He doesn't want to equip people with coding skills if there aren't any employers to "absorb" that talent. And where there are tech employers, desired tech skills can vary from market to market.
Even as he contemplates activities outside Indiana, he has no intentions of pulling back in the state. In fact, he said he's particularly interested in establishing a presence in Evansville, where the major power company is looking for programming talent.
"Our original charter has always been to take this national and international. But when I came in, I felt like I needed to pull back and make the program work in Indiana first, and then start pushing it out," Qualls said.
"So when Interapt reached out to me, I thought, here's my chance to learn to see what it takes to do this somewhere else."
Please enable JavaScript to view this content.