Artificial intelligence marketing is becoming a staple in the retail industry. Companies like Amazon.com use algorithms to learn what individual customers like and then show them tailored messages.
Now an Indianapolis-based entrepreneur wants to bring that kind of marketing to the restaurant industry.
Matt Tait, a former attorney and software salesman, is about six months in leading a six-person startup called Füdē (pronounced foo-dee). It sells a software product to restaurants that mines existing customer data and automates personalized marketing messages. For instance, if a person's interactions with the restaurant suggests an affinity toward steak, he'll probably see an email about a new rib eye on the menu. 
Füdē has three restaurant customers so far. But Tait said the company has been able to raise nearly $500,000 in seed capital from investors—including Scott Webber, the former CEO of BidPal, one of Tait's former employers—and it plans to expand that client base in the coming months. He said his software is not just about personalization, but also analyzing responses so that restaurants can gauge their return on marketing investment.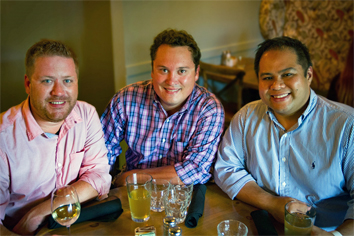 Three former colleagues at BidPal—(from left) Zach Myers, Matt Tait and Jonathan Runes—co-founded Fude. (Photo courtesy Fude)
"One of the big things we're trying to do with Füdē is tell these restaurants owners … that they deserve something they can actually measure at the end of every month," Tait said. "You spent this much on marketing; it put this many butts in seats in your restaurant."
The product works like this. Füdē tracks online and offline data on customers, including interactions with the restaurant, social media data and more. It then builds tailored content for each customer, including emails that "capture the essence" of how a chef would talk to people individually, Tait said. 
The software also can predict the best time to remind people to make wedding anniversary reservations, based on last year's visit.
"I know there are a lot of people that run restaurants, and it's a really hard business to be in," Tait said. "So if we can provide them with consistent, measurable sales on a monthly basis, I know for me as a business owner that'd put my heart as ease."
Füdē was co-founded by Tait and two of his former colleagues at BidPal—Zach Myers and Jonathan Runes—who worked together from 2012 to 2014. The idea started a few years ago as an app that allowed people to share restaurant recommendations with people they knew, but market research and advisers steered them in a different direction.
Füdē is in a new accelerator program at DeveloperTown called DT Starts, which essentially surrounds portfolio companies with resources to grow. DT Starts participated in the investment round and is considered a co-founder, Tait said.
Please enable JavaScript to view this content.