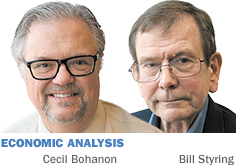 The Law of Demand is a bedrock theorem of economics. Increase the price of something and you get less of it. Decrease the price of something, you get more of it. Politicians seem to understand this when it comes to taxes and subsidies—most of the time. Smoking is bad, so they raise tobacco taxes to curb consumption. Smoking declines. Ethanol was once thought of as green and good, so they subsidized it. Forty percent of our corn now winds up in our gas tanks.
Alas, many of our leaders seem to get a "Law of Demand brain fade" when it comes to business taxes. They regard businesses as inert pinatas to be pounded for revenue. Mechanical blobs that churn along no matter what taxes are levied. They forget the simple Law of Demand. Businesses are run by people and people react to incentives. People follow the Law of Demand.
The current nominal corporate tax rate is 35 percent, close to the highest in the world. With numerous "loopholes," the effective rate on corporate income is something closer to 25 percent, which is still pretty high. That's why we applaud President-elect Trump's outline for business-tax policy. While details are sketchy at this point, he favors a "15 percent across the board" tax on business income of any flavor, corporate or otherwise. He promises to close "loopholes." We suspect that, when the legislative dust settles, we will get something like a 20 percent nominal rate with reduced loopholes, making the effective rate around 15 percent. That will put the United States toward the lower end of the international rate range. The after-tax rate of return on capital investment will soar, as will business investment.
The Left will no doubt attack this as a "giveaway." Someone should tell them that cutting business taxes is a more effective way to increase wages than minimum-wage hikes because the United States will be a much more attractive place to do business. More foreign and domestic investment will grow both GDP and wages. As a bonus, the $2 trillion-plus U.S. firms have parked overseas will mostly come home. Those funds are there to avoid punitive U.S. taxation. All you have to do is remove the punishment and let nature take its course.
We are not unqualified cheerleaders for many of Trump's proposals, but this one deserves three cheers. He understands the Law of Demand.•
__________
Bohanon is a professor of economics at Ball State University. Styring is an economist and independent researcher. Both also blog at INforefront.com. Send comments to ibjedit@ibj.com.
Please enable JavaScript to view this content.