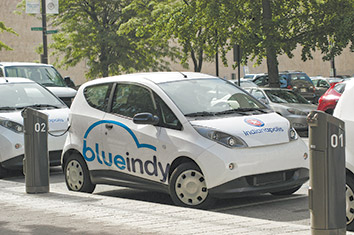 France-based Bollore Group, which launched its first all-electric-car-sharing service in Indianapolis in 2015, is preparing to launch in a second U.S. market—Los Angeles—next year.
The Los Angeles program, which will operate under the name of BlueLA, will be a little different from Indianapolis' program, which launched in September 2015 under the name of BlueIndy.
BlueLA will operate as a pilot program focusing on low-income areas of the city. It will begin with 200 charging stations and 100 electric vehicles in portions of five communities in downtown Los Angeles, Hollywood, Koreatown, Pico Union and Westlake. 
On Friday, the Los Angeles City Council approved a contract with Bollore subsidiary Blue California for the five-year pilot, plus three optional two-year extensions. Over that time, the city will pay BlueLA up to $600,000. Blue California pledges to invest at least $5 million in capital investment and at least $5 million in startup operating investment over the next five years.
The city targeted low-income neighborhoods "where residents often drive older and heavily polluting cars and trucks," according to a news release from the office of Los Angeles Mayor Eric Garcetti.
"Every community in Los Angeles deserves cleaner air, and the opportunity to make a difference in the fight against climate change," Garcetti said in the release. "That is why we are so proud that we can now launch the nation's first pilot program for electric vehicle sharing in disadvantaged communities. That is real progress."
BlueIndy started in September 2015 with 50 vehicles and 25 charging stations. Each station has five parking spaces equipped with chargers.
Currently, BlueIndy has 280 vehicles and 85 charging stations . As of early December, BlueIndy had 3,400 members who have taken a combined 37,000 rides since last year's launch.
About a third of BlueIndy's stations are downtown, but other spots include the Indianapolis International Airport, Butler University and Garfield Park. BlueIndy's website also lists 30 other stations as either proposed or under construction.
"We're exceeding our expectations," said Lance Boehmer, BlueIndy's marketing manager.
BlueIndy hasn't yet reached the break-even point financially, Boehmer said—that is expected to happen in 2020. 
French billionaire Vincent Bollore said last year his company would target more U.S. markets if BlueIndy proved successful. Before BlueIndy's launch, Bollore said the service would need 15,000 to 20,000 regular users to break even.
Please enable JavaScript to view this content.