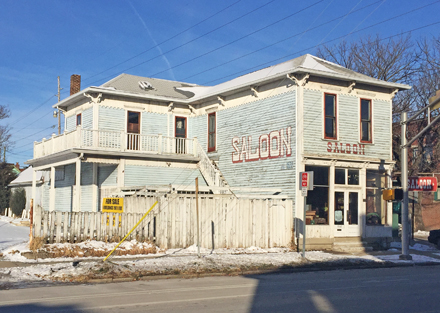 A historic building in Fountain Square that for more than a century housed a saloon is now on the market, along with adjoining property, for $1.2 million.
The two-story wood structure at the northwest corner of Prospect Street and State Avenue was built in 1872 as a grocery and residence. The Lorber family began operating a bar there sometime around the turn of the 20th century.
The bar remained in the Lorber family for about 75 years, until local resident Steven Mascher bought the business in 1974. Mascher named it Sam's Saloon in honor of Sam Lorber, who ran the popular watering hole until he died in 1970.
Drinks stopped pouring at Sam's in 2009, and now Mascher is marketing the building and its nearly one-acre property, which includes a vacant lot and a one-story duplex to the west along Prospect. The bar building, with its original poplar siding still intact, has been listed on the National Register of Historic Places since 1980.
Mascher, 69, who said he's getting too old to maintain the property, thinks the timing might be right to finally sell. Development might be starting to creep east from the heart of Fountain Square and toward his property.
"Most people I've talked to are interested in the land, maybe for apartments," he speculated, "because this is the next Virginia Avenue."
Just a block west from Sam's, Carmel-based Jackson Development LLC plans to redevelop nearly an entire city block by tearing down five old buildings and constructing a new five-story building with 94 apartments and 8,500 square feet of commercial space.
The $18 million project, which has yet to be named, would sit on 1.02 acres at the southwest corner of Prospect and Spruce streets.
The area was quite rural, however, when the Sam's building was constructed, just seven years after the Civil War. Now it sits within four blocks of  Fountain Square's commercial core, where Prospect intersects with Virginia Avenue.
The Lorber bar building could be converted into a nice restaurant, Mascher said.
Entering it is like taking a step back in time. The original bar top, a single piece of walnut, still stands ready to withstand late-night spills. Two gas lights still work, and a wood cooler that would have been filled with ice to keep beers cold before refrigeration became popular sits nearby.
On the walls hang photos dated 1889 that show what Fountain Square looked like with dirt streets, before the advent of the automobile. The story goes that the building boasted the area's first telephone.
Through it all, the saloon endured, even staying open during Prohibition by serving food and non-alcoholic beer.
"The place was never fancy," Mascher said. "It just is what it is."
Indianapolis-based Mascari Realty is marketing the property.
Please enable JavaScript to view this content.