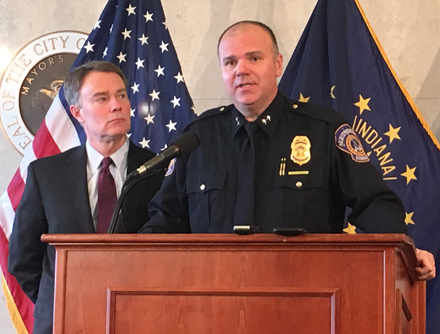 Indianapolis Metropolitan Police Department Chief Troy Riggs is leaving his job after only a year, and he says the reason boils down to money.
"I have to think of the future of my family—the financial future," Riggs, 50, told reporters Wednesday during a joint press conference with Mayor Joe Hogsett. 
Riggs earns $117,187 annually as chief of police.
Riggs served as the city's public safety director under former Mayor Greg Ballard but left that job for a position as IUPUI's director of public safety outreach in August of 2015. In December 2015, the incoming mayor Hogsett tapped Riggs for the police chief job.
Riggs said he'd told Hogsett during those conversations a year ago that financial considerations might lure him away from the city job.
"This was a decision I had to make and something that I think the mayor knew when we talked last December, that this could be a reality," Riggs said.
"I leave with no animosity, only hope and promise for what this city is going to accomplish in the future under this mayor's leadership."
When pressed for details, Riggs said he has "some offers on the table." He did not say what those opportunities might be, other than to say that he is not seeking another position as police chief at a different department.
Hogsett, who first announced the departure early Wednesday morning, said Riggs was the one who made the decision to leave.
"If it were not for that, Chief Troy Riggs would be leading us into 2017," Hogsett said.
Riggs' official last day has not been announced, Hogsett said, but he will likely leave by year's end.
Both Hogsett and Riggs said IMPD has made progress reducing crime rates in what has been a challenging year for law enforcement.
According to FBI statistics, Indianapolis had 148 reported murder and non-negligent manslaughter in 2015. Statistics for 2016 were not immediately available from the city Wednesday.
Through a combination of aggressive enforcement, community policing tactics and police sweeps, the department has seen improvements in 15 targeted areas where crime rates are highest, Riggs said.
In those areas, Riggs said, homicide rates are down 10 percent this year and shootings are down 7 percent. 
"The trouble is, we don't have enough people or resources to expand that—but because of the mayor's long term plan, those areas will be expanded and success will continue," Riggs said.
Last week, Hogsett unveiled his criminal justice reform plan, part of which involves police working more closely with mental-health and substance-abuse professionals.
Hogsett said he will meet with IMPD leadership Wednesday and with community leaders, members of the City-County Council and other law enforcement officials, as part of the process of selecting Riggs' successor.
"This will be a smooth transition," Hogsett said.
Details about the search process, including whether an interim chief will be named, will be forthcoming over the days and weeks ahead, the mayor said.
Please enable JavaScript to view this content.