The fast-growing locally based electronics retailer HHGregg Inc. has seen its stock price rocket more than 80 percent this
year as it moves to take advantage of the bankruptcy liquidation of rival Circuit City.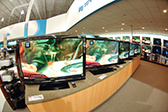 A columnist is pointing out pitfalls
of HHGregg's rapid expansion. (IBJ File Photo)
But a columnist for Barron's
argues in a recent feature that the shares have risen too far, too fast. The article points out that HHGregg is expanding
in markets that already have several retail competitors, and its existing stores are concentrated in areas with high unemployment.
It also expresses concern about the high level—one-third—of purchases that customers put on HHGregg credit cards.
Shares in the company traded recently at $19. If they dropped to the same price-to-earnings multiple as those of
Minnesota-based Best Buy Co., Barron's points out, the shares would drop by about a third, to $12.50.
Please enable JavaScript to view this content.