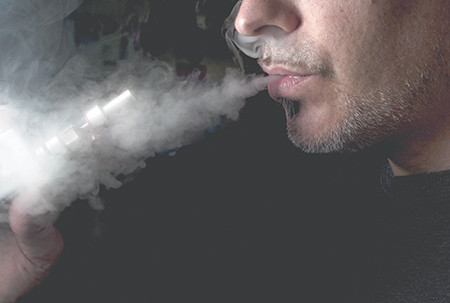 Legislative leaders are promising changes in a law that regulates the vaping industry—specifically the manufacturing of "juice" used in e-cigarettes—after it led to controversy and an FBI probe.
The law, passed in 2015 and tweaked in 2016, effectively put a single private firm—Lafayette-based Mulhaupt's—in charge of deciding which companies can seek a permit to manufacture e-cigarette liquids sold in Indiana and which were shut out of the state's market for good.
The result was that just six manufacturers in the country were initially approved to sell their products in Indiana—three of which had connections to Indiana-based Centaur, which owns the state's two racinos. One of Centaur's lobbyists also pushed for the vaping law.
Lawmakers have said their goal was to increase the safety of e-liquid products and that critics were opposed to regulation. But manufacturers said they don't object to safety rules—just that the law was intentionally so specific that it regulated most players out of the industry.
The law spurred several lawsuits that are still ongoing, and vape-shop owners reported that they either had to move out of state or buy expensive product from the licensed manufacturers. Before the law went into effect, many vape-shop owners manufactured juices themselves. In one case, a judge ordered the Indiana Alcohol and Tobacco Commission to license a manufacturer, even though it didn't meet the strict state law.
There were also charges that legislators pushing for the law had conflicts of interest. One sponsor, state Sen. Ron Alting of Lafayette, was targeted because Mulhaupt's is based in his hometown and is owned by his high school classmate.
IBJ reported in August that the FBI was probing whether any illegal activity led to the law's creation and passage.
State Sen. Phil Boots, a Crawfordsville Republican, said he was asked by an agent whether he had knowledge of any lawmaker or other person "benefiting from this" financially or otherwise. He said he did not.
Indiana legislative leaders have said they did not intend to create a monopoly and are committed to fixing the vaping law during the 2017 session, which begins in January.•
Please enable JavaScript to view this content.