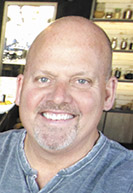 Cunningham
Mike Cunningham added to his stable of downtown dining options in 2016, bringing Vida and The Livery into the fold.
On top of that, Cunningham, 53, was recruited to oversee food operations at ClusterTruck, the food-tech startup launched in March by ExactTarget co-founder Chris Baggott.
Cunningham in the past seven years has opened Mesh, Bru Burger and Union 50 on Massachusetts Avenue. He launched Vida—where Amici's Italian Restaurant once stood—in February, and followed up with The Livery on College Avenue in November.
Vida, at 601 E. New York St., included a major revamp of the 150-year-old building and an addition on the adjacent parking lot to the east.
Besides serving diners, Vida acts as a test kitchen for all of Cunningham's concepts. The restaurant features a rotating menu of 12 to 15 entrees priced from $8 to $30.
Menu changes at his other establishments typically were done without much forethought, prompting the idea for a test kitchen, Cunningham told IBJ.
The historic building housing The Livery at 720 N. College Ave. also needed a major revamp before the restaurant could open. The name refers to the building's original use.
With a second level at the rear, the structure dates to the 1890s, although several additions were made up until the 1930s. Many of the walls were crumbling, there was no plumbing or electricity, and the second floor was in such poor shape that it was too dangerous to walk on.
After a renovation designed by Indianapolis-based Phänomen/design, The Livery began welcoming patrons in late November. The Latin-influenced menu features four empanadas, four salads, skirt steak, chicken and pork dishes priced from $5 to $15.
Outside of downtown, Cunningham has Stone Creek Dining Co. locations in Greenwood, Noblesville, Plainfield and Zionsville, in addition to two in Ohio. He also operates Boulder Creek Dining Co. in Brownsburg, Charbonos in Avon and Moerlein Lager House in Cincinnati.•
This story has been corrected to reflect that Phänomen/design designed The Livery restaurant.
Please enable JavaScript to view this content.