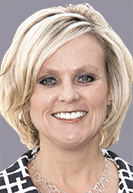 McCormick
Political newcomer and Yorktown Schools Superintendent Jennifer McCormick was elected Nov. 8 as state superintendent of public instruction—a surprise to many who expected Democrat Glenda Ritz to keep her seat.
Now the education world is watching to see what direction McCormick will take the State Department of Education.
The Republican was blasted during the campaign for having backers who had supported unpopular former schools superintendent Tony Bennett, whom Ritz ousted.
But news of McCormick's transition team, which includes many traditional education professionals and no one from the voucher and charter world, has public education advocates saying they will keep an open mind about McCormick and that they hope to have a good relationship with her.
McCormick's election comes after four years of discord between Ritz and outgoing Gov. Mike Pence, who had pushed to usurp the superintendent's power.
In addition, Pence's term was a time of intense change for education policy. The state repealed the Common Core standards and replaced them with a similar state version, students took a new and harder ISTEP exam, and the state changed its A-F grade system for school accountability.
The next four years have more changes in store. State education policymakers are in the process of designing a testing system to replace ISTEP, which was repealed earlier this year over concerns from both sides of the aisle about too much testing. And the state still faces broader questions about teacher recruitment and retention.
So who is McCormick? The former special education teacher, middle school teacher and building principal said "it was never on my radar" to run for office, but she was called to action by what she describes as Ritz's poor leadership of the Education Department.
"The last three years have been really difficult," McCormick said. "Things have become very disorganized and disconnected. The communication going to schools has been splintered. We need people who will call us back, who will return emails. I have no huge political agenda. I got into it simply to help."
McCormick called herself a believer in school choice, but said her goal is to make sure Indiana's public schools become that choice for parents.•
Please enable JavaScript to view this content.