How much of an optimist is Carolene Mays-Medley? Consider this: She's not yet fully recovered from a life-threatening illness she suffered this fall, and she's already using words like "miracle" and "blessing" to describe the experience.

The executive director at White River State Park—a position Gov.-elect Eric Holcomb just reappointed her to—Mays-Medley, 55, is fighting her way back from a ruptured brain aneurysm, a condition that leaves many of its victims disabled, or worse.

But after two surgeries, an induced coma, 39 days in medical facilities, and lots of rehabilitation work following the Sept. 13 episode, Mays-Medley has made it to the other side.

A deeply religious person, she said her survival is a testament to the power of prayer. She expects to return to work Jan. 3.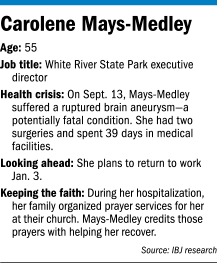 "I'm seeing improvement every single day. I'm getting stronger every day. My voice is getting stronger every day. My mind is getting stronger every day," Mays-Medley told IBJ. "I'm so blessed."

Mays-Medley said she clearly remembers the day she fell ill.

She was in the shower when she felt a sharp pain in her head, neck and one of her arms. Concerned, she called her mother, then her husband. When she couldn't reach either, she called 911. She took two aspirin, got dressed and went to the porch to wait for the ambulance.

While waiting, she vomited. Up came the aspirin.

She lay down on the porch in a strategic location.

"I laid down next to [the pool of vomit] because I wanted the paramedics to see what was in my system," Mays-Medley said.

She said she was alert until arriving at the hospital, when she went in and out of consciousness.

From there, her memories are sporadic. She had two separate emergency surgeries. She battled high fevers and her blood pressure was unstable. She had trouble breathing and had to be put on a ventilator. Doctors put her into a medically induced coma for the better part of three weeks.

A turning point, Mays-Medley said, came on Oct. 1. Her husband, Fred Medley, had organized a prayer service at their church.

Mays-Medley, who at that point was still in the intensive care unit at St. Vincent, said she woke up during the prayer service. By the end of the day, she was showing more signs of improvement.

"If people don't believe in the power of prayer—I don't understand that," Mays-Medley said. "That night, everything turned around and I was fine."

The next day, she was able to go off the ventilator and breathe entirely on her own. On Oct. 5, she moved out of intensive care into a regular hospital room. Physical therapy has helped her regain her strength, and she said testing shows no evidence of brain injury.

Mays-Medley is bucking the odds.

According to the Brain Aneurysm Foundation, 30,000 Americans suffer a brain aneurysm rupture each year. About 40 percent of those prove fatal, and about 66 percent of survivors suffer some permanent neurological deficit.

That's not to say her recovery has been easy.

While still in the hospital in early October, Mays-Medley broke down during a physical therapy evaluation. She couldn't do what the therapist was asking, and she was frustrated to the point of tears. She couldn't stand, couldn't walk and the right side of her body was weak.

At that point, Mays-Medley's neurologist came into the room and put things in perspective. He told her she was doing miraculously well—that he had performed similar surgeries on several other patients recently. Those patients hadn't yet even regained consciousness.

That message shifted Mays-Medley's outlook.

"It just changed everything for me at that point," she said.

While she battled to recover, her staff pulled together to keep things running back at the office.

"I just have to give all the credit to the staff. They've been great," said Dawn Tabler, chairwoman of the White River State Park Commission.

Tabler said Mays-Medley is a positive and determined woman as well as a friend. Tabler never doubted that her friend would recover.

"I just went forward with the attitude that she's going to be coming back," Tabler told IBJ. "I just thought, 'If anyone can do it, Carolene can.'"

The White River State Park Commission is a quasi-governmental unit, and its staffers are state employees. For this reason, Tabler said, it would have been "really, really complicated" to step outside of established structures and name an interim director.

So Tabler herself went to the state park's office two or three times a week to consult with employees and help as needed—everything from approving payroll checks to renewing legal contracts with various parties. She sought counsel from the Attorney General's Office, and the Governor's Office helped out, too.

On Dec. 5, Holcomb reappointed Mays-Medley to her position—a sign of confidence in her recovery.

Mays-Medley is still going to physical therapy to strengthen her right side. A tracheotomy has left her with a scar on her throat, plus a weak voice that she said continues to improve.

She has long taken the view that God has a purpose for the events in her life. That includes her illness and recovery.

"The sweetest part of this, for me, is how many people have come to us and said their faith has been renewed because of the miracle that they saw.

"I would love for people to read this story. And if it helps them … to know that big miracles still happen today, then that's great."•