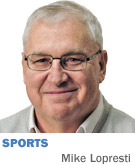 Time to start filling out the 2017 calendar. Twelve months, 12 Indiana sports moments to look forward to, the first one here quicker than you can sing "Auld Lang Syne."

January: Here's a number to gag on. In its first three seasons in the Big East, Butler went 2-18 against Villanova, Xavier and Providence. That includes 0-6 vs. Villanova, so the Bulldogs should not want for motivation when the Wildcats visit Jan. 4.

By the way, if Villanova is still unbeaten after games against DePaul and Creighton, it will arrive in Indianapolis as the nation's top-ranked team. According to Butler's records, it's been 63 years since the Bulldogs hosted a No. 1 opponent in Hinkle Fieldhouse.

Anniversary to remember: Twenty years ago on Jan. 14, Bob Irsay died. Son Jim took over the Colts.

February: On the 9th, it'll be Purdue at Indiana. On the 28th, the other way around. James Blackmon Jr., say hello again to Caleb Swanigan. The rivalry might be particularly vintage this season, with each a Big Ten contender. Last year was only the second time in 16 seasons that both teams were in the polls when they met.

Anniversary to remember: Fifteen years ago, Indiana trudged through a so-so 4-3 February. Who would have guessed the Hoosiers were on their way to the national championship game?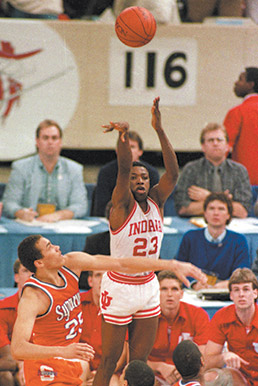 March marks the 30th anniversary of IU's Keith Smart hitting a jump shot over Syracuse's Howard Triche with five seconds left in the NCAA championship game, giving Indiana the 74-73 victory. (IBJ photo/Eric Learned)
March: Bankers Life Fieldhouse has never hosted a men's NCAA Tournament game, but that changes on the 17th and 19th when the first and second rounds come to town. And since you could make a reasonable case at the moment that six Indiana teams might be in the field—IU, Purdue, Notre Dame, Butler, Valparaiso and Fort Wayne—at least one of them has to be sent here, right? This can help make up for the fact the Big Ten men's tournament is not due back here until 2020.

March is a big NCAA sports month in Indianapolis. Both the men's and women's national swimming and diving championships will be decided at the IU Natatorium at IUPUI, and the men's and women's fencing titles at the Fairgrounds Coliseum.

Anniversary to remember: Thirty years ago on the 30th, Keith Smart hit a baseline jump shot against Syracuse in the Superdome that Indiana fans might remember. Bob Knight's third and last national championship was truly a postseason on the brink. The Hoosiers won their last three tournament games by a combined six points, two of them in the last seven seconds.

April: The NBA playoffs at Bankers Life. Well, maybe.

Anniversary to remember: Ten years ago, Butler Coach Todd Lickliter left for Iowa. On April 4, Athletic Director Barry Collier announced he had decided to promote an assistant and take a chance on a 30-year-old former employee of the Eli Lilly marketing department. His name was Brad Stevens. You know the rest.

May: The Indianapolis 500 got a much-needed turbocharged buzz from its 100th running. But does momentum stay around for No. 101? We'll find out on May 28.

Anniversary to remember: Lots of 'em on 16th Street. Fifty years ago, the revolutionary turbine engine came to the Speedway, and whooshed its way to the lead for all but 25 of the first 196 laps with Parnelli Jones driving. Then it came to a stop because of a $6 bearing. Forty years ago, A.J. Foyt became the first man to win four Indy 500s and Janet Guthrie the first woman to qualify for it. Thirty years ago, Al Unser Sr. joined Foyt with four. Those were the days.

June: Welcome to the event with people running six miles through downtown, scurrying in and out of places such as Lucas Oil, Victory Field and Bankers Life. This is either a police chase, or Indy Ultimate, an urban adventure race presented by Central Indiana Community Foundation.

Anniversary to remember: Thirty years ago on June 22, the NBA held its draft. And with the 11th pick, the Indiana Pacers selected ... Reggie Miller of UCLA. The masses, yearning for home-state hero Steve Alford, booed. But not for long.

July: The Colts will gather again at training camp with new enthusiasm—and probably the same old questions.

Anniversary to remember: Ten years ago, the Colts gathered for training camp, too. As defending Super Bowl champions.

August: On the 31st, Indiana will open its football season against a Big Ten opponent for the first time in 35 years: Ohio State. Welcome to the league, Tom Allen. What happened to opening against Towson or Indiana State?

Anniversary to remember: Thirty years ago, Indianapolis took a quantum leap forward as a sports city with the Pan American Games. Yeah, the city had the Pacers and Colts, but now it had boxers from Cuba and hurdlers from Jamaica. And a basketball team from Brazil that shocked the U.S. 120-115. Thirty years later, you can still walk through Pan Am Plaza.

September: On the 2nd, Purdue will play Louisville in football for only the second time in history, at Lucas Oil Stadium. The interesting question is which team will have the most fans.

Anniversary to remember: Twenty years ago, on the 21st, the Colts lost 37-35 to Buffalo. That was the beginning of a four-game deluge of frustration when they lost four times by a combined 11 points. But had they won any of them, they would not have finished 3-13 and gotten the No. 1 draft pick, which they used on a quarterback from Tennessee. Imagine a Colts world without Peyton Manning.

October: We'll be getting a good read by then on the Colts. Are they winning at home? One of the components of the past two years' flops has been a 7-8 record at Lucas Oil, with this season's Jacksonville finale pending. Have they played Pittsburgh yet, and if so, was it another smackdown? The Steelers have been on the schedule the past three years and won them all by a combined 124-51.

Anniversary to remember: Fifty years ago on the 14th, the Indiana Pacers came to life, beating the Kentucky Colonels 117-95 before a packed house at the Coliseum. The leading scorer with 24 points was Roger Brown, whom the Pacers had signed off a General Motors assembly line in Dayton, Ohio.

November: This year, the Old Oaken Bucket convenes at Purdue, where the Boilermakers will try to end four years of misery. The game is on the 25th. Speaking of which ...

Anniversary to remember: Fifty years ago on the 25th, the two-touchdown underdog Hoosiers upset Purdue 19-14. And thus, these words could be said for the first, and so far only, time: Indiana is going to the Rose Bowl.

December: The Big Ten football championship game returns to Lucas Oil for the seventh time. Indiana and Purdue, of course, have never played in one of them. But then, neither has Michigan.

Anniversary to remember: Five years ago on the 30th, Andrew Luck completed his first Colts regular season with an 11-5 record and playoff berth. Some things have changed. He was sacked 41 times. Some haven't.•

__________

Lopresti is a lifelong resident of Richmond and a graduate of Ball State University. He was a columnist for USA Today and Gannett newspapers for 31 years; he covered 34 Final Fours, 30 Super Bowls, 32 World Series and 16 Olympics. His column appears weekly. He can be reached at mlopresti@ibj.com.