Investors in a company built around clinical research software bought from Eli Lilly and Co. have found their exit, though it's far from the lucrative payoff they'd once imagined.

Some of the 20 or so original investors in Maaguzi LLC didn't come close to recouping their initial investment following the $11 million sale of the company to Boston-based software maker Phase Forward, a deal announced July 27.

That's according to one investor, who asked not to be named. He blamed the disappointing payout on early missteps and the economic meltdown, which made it tough to raise additional money to get Maaguzi's clinical research software to market. He said investors who didn't participate in subsequent rounds of fundraising got back less than 20 cents on the dollar.

Huffine

Maaguzi's software allows patients and researchers to enter and share study data via the Web rather than using reams of paper forms.

Another investor—company founder and Indianapolis entrepreneur Joe Huffine—agreed that the financial result wasn't what he had in mind when Maaguzi was launched in 2005.

He started rattling off a list of Indianapolis upstarts that fetched high premiums when times were good, such as medical device maker Suros Surgical, which fetched upward of $240 million in 2006.

"I would have liked it to sell in the $30 million to $50 million range. This is a huge space. It gets high multiples," Huffine said of the clinical research software sector.

"I think it could have been a lot larger, more significant exit," added Huffine.

Then again, Maaguzi could be viewed as a success for merely surviving the recession. It also worked through the struggles that typically plague a startup, such as facing giant competitors like its acquirer, Phase Forward.

The fate of Maaguzi's operations at 3077 E. 98th St. and of its employees is unclear. "We are still in the process of evaluating Maaguzi overall," said Phase Forward spokeswoman Elaine Maynard.

It's not clear how many employees Maaguzi had at the time of the deal. It employed 10 people during the early days in 2005. Huffine was gunning for 100 employees within five years. And he told IBJ after its founding that Maaguzi would be considered an underperformer if within four years it had failed to reach $20 million in annual sales.

Promising start

Maaguzi, which means "medicine" in Swahili, appeared to be on the way to meeting its employment goals.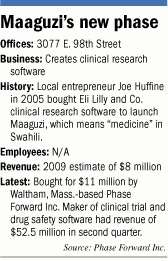 In 2007 it announced it was closing its North Carolina office and moving its 42 employees to Indianapolis. The Indiana Economic Development Corp. at the time offered $175,000 in tax credits and $18,500 in training grants.

As of today, the only person known for sure to be headed to Waltham, Mass.-based Phase Forward is Maaguzi's chief operating officer, Scott Dixon, a former WebMD executive.

Dixon will head Phase Forward's newly-formed Outcome Logix Group, named after Maaguzi's software product.

Neither Dixon nor Maaguzi CEO Raul Zavaleta could be reached for comment. Zavaleta founded SciCor, an Indianapolis laboratory focused on clinical trials of pharmaceuticals, which was purchased in 1991 by New Jersey-based Covance.

Phase Forward, with second-quarter sales of $52.5 million, has been snapping up smaller companies. Recently it announced it would buy the Integrated Voice and Web Response unit of Covance for $10 million.

"What we've been seeing as of late is the acquisition of smaller companies that have built up strength, expertise and products in a particular area by large, global companies that either want to build on their own strengths in that area or enter into it," said Sara Gambrill, senior editor of Boston-based CenterWatch, a top tracker of the clinical trials industry.

"Technology companies in the clinical research space increasingly need to be able to offer to pharma a single platform that will meet all their data collection and management needs globally," she added.

Fight for funds

Maaguzi never got the chance to build critical mass that could have produced the kind of lucrative exit Huffine envisioned.

One investor said the Lilly software that Maaguzi purchased wasn't quite as far along as investors, who put in a collective $2 million in the initial round of funding, were led to believe.

There also was at one point discontent over how much Huffine was receiving in consulting fees, said the investor. He credited Huffine for returning the money, however, after other investors objected.

Huffine, who runs the investment firm Zica Group, which specializes in corporate spinoffs, chalked the episode up to the disagreements all startups face. Huffine is perhaps better known as co-founder of Indianapolis technology consultancy Onex, which he sold eight years ago.

But the real issue appears to have been a delay in getting product to market. Maaguzi brought in Dixon as chief operating officer to put on the spurs. Maaguzi also hired Durham, N.C.-based software developer Pangen Biosystems to fill in the gaps and to exterminate software bugs.

The investor said Pangen at one point had 30 full-time programmers working furiously, racking up more than $1 million in vendor debt. "Well, we weren't generating any revenue," the investor said.

Maaguzi could have ended then and there—one of three near-death experiences for the upstart, said the investor. Pangen CEO Fred Jacome forgave debt in exchange for a 20-percent stake in Maaguzi, the investor said.

It isn't clear how much money that represented. But forms Maaguzi filed with the Securities and Exchange Commission list Pangen CEO Jacome as among investors. Also on the list was former Lilly CEO Richard Wood.

There were several rounds of fundraising after the initial round. Those generated roughly $6 million more, said the unnamed investor. But Maaguzi was still struggling to find bank or venture financing as the economy started souring last year.

"In this venture capital environment there was no way our investment manager could get anybody to pay attention to us," said the investor.

Turning the corner

Maaguzi started pulling down sales earlier this year to the tune of roughly $500,000, said the investor. "We were really on the edge of huge success and the VCs kind of knew it."

He said the offer from Phase Forward "came out of the blue" along with an offer by another company. According to the investor, those who participated in further rounds of financing made a small return; those who put in money initially but sat tight lost money.

That they got any money, and that Maaguzi survived the economic slump and evaporation of capital, is notable. In Silicon Valley, numerous startups are failing, or selling at steep discounts.

Locally, "I have really been surprised in the last year how many of them are continuing to survive," said Patrick Callahan, who practices business and corporate finance law at Baker & Daniels.

Callahan said many tech entrepreneurs have reduced personnel and adjusted their strategy, among other things. "They've made significant changes in the rate of their fund burn."

One advantage for local startups is that many investors in this region seem to have more of a "holistic, long-term view," Callahan said.

"I don't know how long that's going to last."•