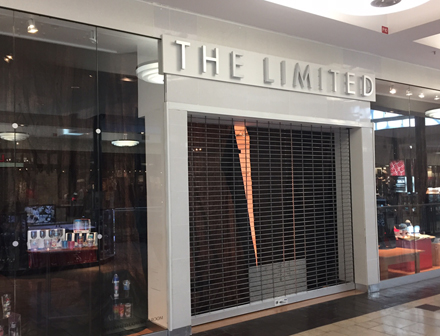 National retailer The Limited is closing stores nationwide, including its locations in Indianapolis, as part of a what appears to be a permanent shutdown.
The women's fashion chain last year converted many of its Limited stores to an outlet format known as Backroom at the Limited, including locations at Circle Centre mall and Castleton Square Mall.
The downtown Circle Centre store shut its doors Dec. 24 and the one at Castleton is set to close Saturday, a store employee said. Backroom stores offer a mix of outlet merchandise and other Limited items.
At the store on the third floor of Circle Centre, where The Limited was an original tenant of the mall that opened in 1995, workers are finishing cleaning out the space.
Limited Stores is owned by Florida-based Sun Capital Partners, the same private-equity firm that owns local grocer Marsh Supermarkets Inc.
Sun has owned The Limited since 2007, when it bought the chain from L Brands, the Columbus, Ohio-based parent of Victoria's Secret and Bath & Body Works.
Sun Capital declined to comment on the closings.
The Limited had about 250 locations before the holidays. But media outlets across the country are reporting that stores in their markets have closed or will do so soon.
The closings follow an announcement in November by Sun that it was exploring a sale of the chain. Last month, The Limited said it was laying off 248 corporate employees and closing the Columbus, Ohio, headquarters following disappointing sales.
Bloomberg News said the company is expected to file for bankruptcy within weeks and most likely liquidate.
It's unclear how many Limited stores have closed at malls owned by locally based Simon Property Group Inc. A Simon spokesman declined to provide the information, saying the company leaves closing announcements to retailers.
The Limited was launched in 1963 by retail magnate Les Wexner. He founded and still leads L Brands.
When Circle Centre opened, The Limited was considered an anchor for the mall because its parent, then known as Limited Brands, brought 10 stores to the property that leased a total of 70,000 square feet, including Abercrombie & Fitch, Bath & Body Work's, Cacique, Express, Lane Bryant, Lerner New York, Structure, The Limited Too and Victoria's Secret.
Please enable JavaScript to view this content.