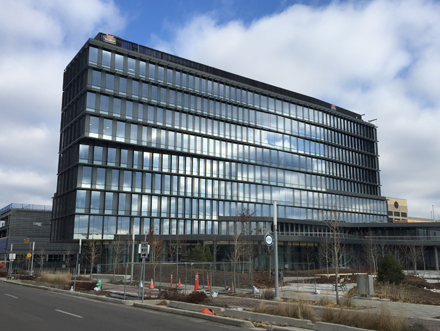 Cummins Inc.'s new nine-story structure in downtown Indianapolis is more than just an office building, the engine maker says—it's also a recruitment tool.
Company officials, city leaders and others gathered Thursday for a formal ribbon-cutting at the facility, which sits on a four-acre site at 301 E. Market St. Employees start moving into the building later this month. 
The facility will serve as the new headquarters for Cummins' global distribution business—workers who handle sales, service and support of Cummins products. Employees will include 90 people who currently work at other Indianapolis locations, and about 160 others who now work at Cummins' corporate headquarters in Columbus.
Columbus has its own appeal, said Tony Satterthwaite, president of Cummins' distribution business.
"It's a small town. It's a cozy environment," Satterthwaite told IBJ.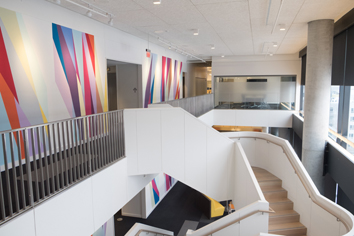 Cummins long has been known for championing modernist design, which is reflected in the building's interiors. (IBJ Photo/Eric Learned)
But, he said, some Cummins employees prefer to live and work in a more urban environment.
The new Indianapolis facility should help Cummins recruit people with that mindset, Satterthwaite said.
"We think that'll allow us to attract a different type of employee."
Cummins also says having the new Indianapolis building will put it in closer proximity to the Indianapolis International Airport and the multiple interstates that run through the city.
Cummins built the facility with room to grow. It has space for up to 450 employees, although the company says it has no set timetable for when it might add to its Indianapolis workforce.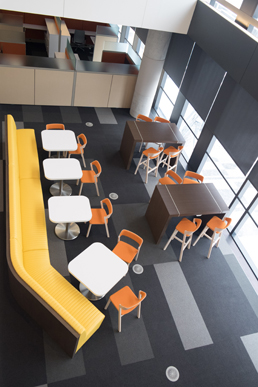 Architectural firm Deborah Berke Partners designed the facility. (IBJ Photo/Eric Learned)
Cummins originally announced its plans for the facility in March 2014. At the time, Cummins described the project as a $30 million development. Company spokeswoman Katie Zarich said Cummins always expected to exceed that amount—and has exceeded it—but is not disclosing its total project costs.
In addition to office space, Cummins also plans to use the new building for corporate events, including functions that draw Cummins employees and executives from operations around the world.
The facility is also designed with an acre of public green space along East Washington Street. A first-floor public retail space is set to open later this year.
In keeping with Cummins' longtime focus on art and architecture, the building features more than 60 individual pieces of art, including three site-specific commissions by artists Kendall Buster, Odili Donald Odita and a collaboration by Jennifer Riley and Emily Kennerk.
Architectural firm Deborah Berke Partners designed the facility. Berke, the firm's founding partner, is the dean of Yale University's architecture school.
"It's a very special site," Berke told IBJ before the project began. "We felt a responsibility to Indianapolis to make a quality building that reflects the forward look of what the 21st century is like, in terms of openness and [space] flexibility."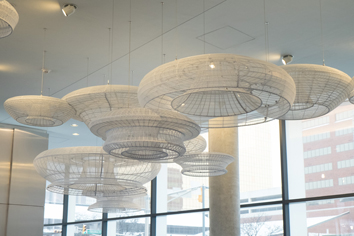 The building includes more than 60 works of art, including this installation commissioned from Kendall Buster. (IBJ Photo/Eric Learned)
The building's long and narrow layout aims to create work space that offers abundant views and plenty of daylight, she said, offset by a glass facade that is calibrated, or staggered, to cover floor plates that widen as the structure rises.
"To my mind, a big part of that is working in daylight, and working in space that feels open and comfortable but is not vast and dehumanizing," she said.
The calibrated facade uses different types of clear and opaque glass, and metal fins and sunshades, not only to maximize daylight but also to add urban context. And expansive, column-free spaces have tall ceilings.
"This will be a place we can be proud of," Satterthwaite told the crowd gathered at Thursday's event. "We're excited now because we're in Indianapolis in a much bigger way."
Even with its new Indianapolis facility, Cummins is not leaving Columbus behind, Zarich said.
Cummins has about 10,000 employees in Indiana, and about 80 percent of them work in Bartholomew County. 
"Our headquarters is still in Columbus. We're committed to Columbus," Zarich said.
 
Please enable JavaScript to view this content.