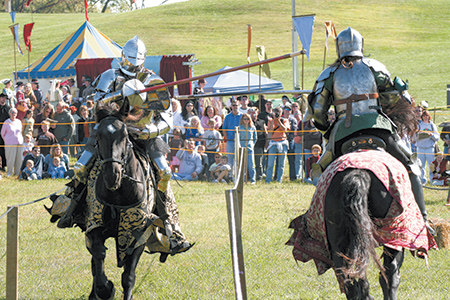 Tourism spending in Hamilton County saw unprecedented growth in 2015, with increases that outpaced the state and the Indianapolis metropolitan area.
Visitors spent nearly $681 million in the county in 2015, with most of the dollars used for food and beverages. That's a 12 percent boost over 2014, when tourists spent $608 million.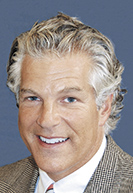 Newman
"That's a pretty significant increase to see," said Mark Newman, executive director of the Indiana Office of Tourism Development. "They've got the goods to back it up."
The data comes from the annual report conducted by Pennsylvania-based Rockport Analytics on behalf of the state. The research, which was released last month, calculates a slew of information on tourism: total visitor spending (including where those dollars are spent and on what), tax revenue generated, number of jobs sustained and created, and overall economic impact.
Brenda Myers, Hamilton County Tourism Inc.'s CEO and president, said counties can pay Rockport Analytics to have their county-level data analyzed, which Hamilton County has done since 2012. It cost the organization $5,000 this year.
The growth in tourism spending from 2014 to 2015 in Hamilton County was a significant rebound from 2013 to 2014, when spending actually dipped 0.6 percent. Visitor spending barely increased—0.1 percent—from 2012 to 2013, which Myers said was a result of the Super Bowl in Indianapolis in 2012.
The most recent increase is nearly double the growth in the Indianapolis metropolitan area, where tourism spending increased 6.3 percent, and is higher than the statewide boost of 8.6 percent.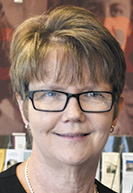 Myers
"It's really about a diversified market, and we have it. We're very lucky," Myers said. "We've never seen double-digit growth."
Myers credited some of the Hamilton County growth to a strong tourism industry in downtown Indianapolis, which can push visitors into surrounding areas for hotel rooms and restaurants.
The healthy flow of weekday business travelers, attributed to the high volume of corporate headquarters in the county and Indianapolis, also helps, according to Myers.
But one factor more than any other is credited for the expansion of Hamilton County's tourism economy—Westfield's Grand Park Sports Campus.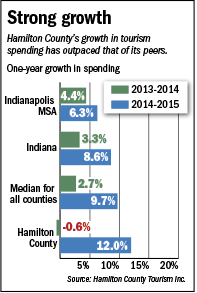 The nearly 400-acre youth sports park opened in 2014, so its first full year of operations was 2015. The campus included 26 baseball and softball diamonds and 31 soccer fields when it opened, and in 2016 added two indoor facilities.
In 2015, the city of Westfield reported 607,670 visitors at Grand Park.
The destination generated so many visitors last year that at least one organization canceled a tournament after it was unable to find overnight lodging.
Hamilton County Tourism "can't necessarily go out and promote overnight travel right now" because of the lack of hotel rooms, Newman said.
Hotel demand in Hamilton County increased 5.5 percent on weekends and 2.8 percent on weekdays from 2014 to 2015.
New hotel rooms were added in 2016, though, with the opening of Holiday Inn Express in Noblesville, and more hotels are on tap this year.
"Part of our challenge and the reason we lose some rooms is, we only have 804 double-doubles in the county and that's the preferred group room," Myers said of rooms with two double beds.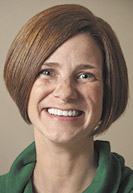 Lambert
Carrie Lambert, executive director of the Indiana Tourism Association, agreed that proximity to Indianapolis and steady business travel have always helped Hamilton County's tourism economy. But she said Grand Park has been the biggest contributor.
"In the last several years, we've seen youth sports explode," Lambert said.
She lauded municipal elected officials for their years of planning in getting the county to this point. Opening Grand Park, for example, required years of property acquisition and years of construction.
"They've been strategic in what they've done," Lambert said. "I think it's really easy to see the success story and forget it's years in the making."
Newman said other Hamilton County destinations, like the Center for the Performing Arts in Carmel or Conner Prairie in Fishers, benefit the tourism industry—but not like Grand Park.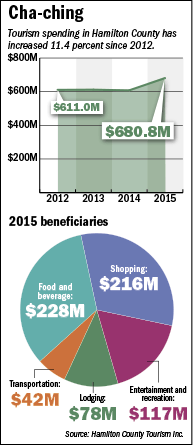 "Those certainly drive traffic in visitors to the county," Newman said. "But it's hard to compare anything, quite honestly, to Grand Park."
Still, state tourism growth did play a part in Hamilton County's success.
Visitor spending grew 8.6 percent statewide in 2015, which set a record at $11.5 billion, according to Rockport Analytics.
"We're kind of on parallel paths," Newman said about the state and Hamilton County. "Sports tourism, in general, is a huge contributor to the state's tourism profile."
Newman said travelers have started discovering more state attractions, in part because of Indiana's bicentennial celebration, which kicked off at the end of 2015 and continued throughout 2016.
"Indiana destinations were in the spotlight more than in years prior," Newman said. "I think that alone led to people getting out on the road."
Lambert also pointed to the benefit the Great Recession had on central Indiana tourism. With flights to faraway destinations making those trips too expensive, some travelers opted for a cheaper getaway within driving distance, making "The Crossroads of America" convenient.
"Tourism across the board is really seeing a lot of growth and getting traction," Lambert said.
Tourism experts said steady growth should continue, judging by what they saw in 2016 and what they expect for this year.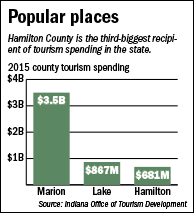 The two new indoor facilities at Grand Park—Grand Park Events Center and Jonathan Byrd's Fieldhouse—made the campus a year-round destination.
And additional hotel rooms set to open this year could allow for more tournaments.
"What we're seeing is a calendar that's evening out a bit, which is really good," Myers said. "It's this beautiful mix that we have up here and we just have to keep that going."
Retail giant Ikea and entertainment venue Topgolf are also scheduled to open this year in Fishers.
"Ikea is a huge win," Newman said. "It's destination shopping at its finest."
Lambert said she expects the growth to continue but cautioned it might not be as significant as it was from 2014 to 2015.
"They could still have these peaks, but we also have to be very realistic in what we look at," she said. "It would be unfair to say every year is going to be like that year."•
Please enable JavaScript to view this content.