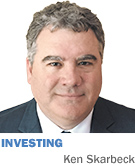 Dear girls,
All of you are now on the path to achieving college degrees. The purpose of this memo is to stress the importance of saving and investing early in your careers. Today, more women are taking an active role in managing and investing the family finances. In prior generations, women were often in the dark on money matters. Taking an active role from the start to oversee your financial future will benefit you over the long term.
While manually keeping a checkbook register is probably not for millennials, use a program like Quicken to reconcile your account balances and keep track of your spending.
Take the time to educate yourselves on how to manage your finances. Ask questions; read a few good books on investing. Develop some basic saving and investing principles, which will build a foundation for good financial decision-making.
I can't emphasize enough how far ahead of the curve toward financial stability you will get by beginning a program of saving and investing at an early age. Become comfortable investing in stocks by first understanding what a stock represents—a fractional ownership of a business. As those businesses grow in value, owning stocks for the long term will provide the best returns on your savings.
Maximize contributions to retirement accounts from the very start of your careers by contributing to company 401(k) plans or a self-directed IRA account.
Get acquainted with the simple math of investing. The Dow Jones industrial average, the most common index to measure of the level of the stock market, sits at 20,000 today. It is quite likely that, within 25 years, the Dow Jones index will surpass 100,000, which would indicate an aggregate fivefold increase for stocks. This equates to an average annual return on your savings of 6.65 percent.
At that rate, by investing $5,000 in an IRA each year, your IRA would be worth $320,800 by 2042. Were you to save more and earn higher returns, your account value will be much higher thanks to the magic of compounding returns.
Now, you should be aware that, along the way, you will encounter occasional periods when economic and market conditions test your resolve to own stocks. When stock prices decline and your account balance sinks, you might be frightened and think about selling out at depressed prices.
Instead, you must understand that market pessimism produces cheap stock prices. When nobody wants to own stocks, it is time to buy them. This is because you will be investing at a fraction of their true value. Paying 60 cents to buy something worth $1 is a formula for financial success.
These periods might even last a few years, and it is never enjoyable to see your money lose value. However, in time, the markets will recover and move to even higher levels. A simple study of market history can be your guide during these stressful times.
Over time, you can count on progress to increase your generation's standard of living. Sixty-five years ago, the Dow was at 250; it is 80 times higher today. In turn, you will likely see the Dow average soar toward 1,500,000 over your investing lifetime. The best time to start planning your financial future is now.•
__________
Skarbeck is managing partner of Indianapolis-based Aldebaran Capital LLC, a money-management firm. His column appears every other week. Views expressed are his own. He can be reached at (317) 818-7827 or ken@aldebarancapital.com.
Please enable JavaScript to view this content.