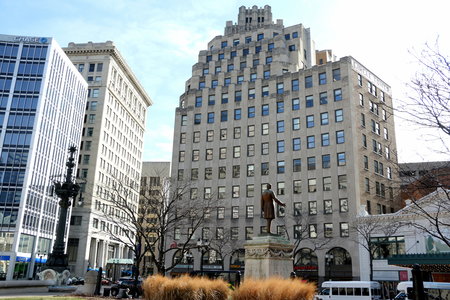 A company dedicated to creating co-working spaces has purchased the historic Circle Tower downtown and plans to renovate part of it into communal work areas and private offices for members.
Chicago-based Level Office announced Thursday that it had acquired the 14-story, art deco building at 55 Monument Circle from locally based Ambrose Property Group. Level Office said pre-leasing of space is underway and the company already signed its first member.
"Indy has been on our radar for quite some time. We think there's a need for affordable spaces in great locations like this," said Bill Bennett, the company's founder. "There's a signficant, pent-up demand from small business owners and from larger businesses who want to have satellite offices."
Bennett said Level Office has been scouring downtown Indianapolis for two years looking for the right space and found it in Circle Tower. "We were able to find a beautiful building where we felt like we could increase the vibrancy in the area," he said.
Level Office did not release a purchase price but said it is higher than the $6 million Ambrose paid to acquire the building and land in 2012.
The Indianapolis architectural firm Rubush & Hunter designed the office and retail building—known for its Egyptian detail and ornate lobby with marble walls and terrazzo floors. Built in 1930, the structure features a stepped-back façade that's designed to avoid casting a shadow on the Soldiers and Sailors Monument. It's in the southeast quadrant of the Circle.
Ambrose has its headquarters in the building while a Starbucks, Potbelly Sandwich Shop and Giorgio's Pizza, among other tenants, occupy street-level retail spaces.
Level Office said all existing tenants will remain in the 111,000-square-foot building, which is 88 percent occupied. The company ultimately plans to devote 25 percent of the building to co-working space, with the first 8,600 square feet coming online this year.
Level Office said its plans for the building include private offices and communal lounge areas with amenities such as an espresso bar, 500 megabits-per-second fiber internet, local beer on tap, and on-site administrative support.
Bennett said Level Office will largely target professional service firms, which make up about three-quarters of its members and tenants in its 13 locations in nine cities. That includes high-tech companies such as IT and software firms but also more traditional law, accounting, media and finance firms.
"No one industry makes up more than 15 percent in any of our buildings," Bennett said.
Membership pricing will be $199 a month for co-working space and will start at $450 for private offices.
Level Office has offices in Charlotte, Chicago, Dallas, Houston, Jacksonville, Pittsburgh, San Diego, Seattle and Alexandria, Virginia, always in downtown locations. 
"We believe that the center of major metros downtown are urbanizing and revitlziaing across the country and even the world," Bennett said. "And being central is advantageous. It gives you the broadest reach. And another major piece is that that's where there are lots of cool, old buildings."
Circle Tower is listed on the National Register of Historic Places and features a ziggurat crown, art deco sculptures, and bronze grilles with hieroglyphic images. Level Office said it strives to honor "the architecturally significant while outfitting buildings with cutting-edge technology and inspiring amenities for members."
"With Salesforce expanding next door and Level Office opening in the Circle Tower building, Monument Circle is well positioned to be the center of the state of Indiana's burgeoning technology and professional services hub," Bennett said in a statement.
Salesforce.com announced last year that it will lease 200,000 square feet in the state's tallest building, formerly the Chase Tower, and add 800 jobs. The skyscraper, on the Circle's northeast quadrant, has been rechristened Salesforce Tower and will get new signage early this year.
Level Office will join several other co-working spaces in the downtown area, although it is the only one that will be on the Circle. The Speak Easy recently opened a new space downtown in the Morrison Opera Place building at 47 S. Meridian St. to focus on providing spaces for more mature startups.
The Bureau and the Pin Bureau are co-working spaces in the Fletcher Place neighborhood. And Ruckus is a co-working space for artists, engineers and designers in the Circle City Industrial Complex at 10th Street and Massachusetts Avenue.
Bennett said he believes there is plenty of demand for more co-working spaces and thinks Level Office will offer something different.
"We try to help businesses that are growing and expanding. We do it at a bigger scale than any players nationally," he said. "Because we also buy the building, it allows us to have the lowest-priced rents in the country. We're finding that opens up new demand."
Please enable JavaScript to view this content.