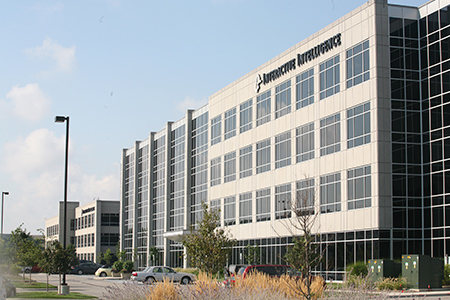 In May 2014, Interactive Intelligence Group CEO Don Brown held a press conference at the firm's northwest Indianapolis headquarters, announcing plans to construct a new building and hire 430 workers by the end of 2016.
Surrounded by media and flanked by Indiana Gov. Mike Pence and Indianapolis Mayor Greg Ballard, Brown said, "Never could I have imagined 20 years after founding Interactive Intelligence, we'd be having a big-time press conference with the governor and the mayor, talking about a large headquarters expansion as well as significant new hires."
Developer Duke Realty Corp. erected the $12.5 million, 120,000-square-foot building to accommodate the planned expansion, which the company used to leverage commitments for property-tax breaks from the city and state tax credits from the Indiana Economic Development Corp. But employment has barely budged. At the time of the announcement, the company employed about 1,000 Hoosiers; this August, when competitor Genesys Telecommunications Laboratories reached a deal to buy it for $1.4 billion, executives said it had about 1,000 local employees.
The newest building, at 7676 Interactive Way, sits on Interactive's sprawling campus with two other company-occupied buildings. While it appears partially used, it still has unfinished rooms, with boxes of ceilings tiles and rolls of carpet that have yet to be set.
It's unclear exactly how many local employees the company has today. Genesys declined to comment except to say the newest building is occupied. Genesys CEO Paul Segre told IBJ in August that he planned to maintain Indianapolis as its second-largest office outside of its California headquarters, but he did not commit to swelling employment here.
In its incentive deal with the IEDC, Interactive said it intended to employ 1,406 Hoosiers by the end of 2016. But an IEDC spokeswoman said it still can reap the maximum amount of state tax credits—$8.3 million—if it achieves that employment by the end of 2023.
The IEDC does not disclose employment for specific companies. But it does not appear Interactive has been able to materially tap those credits so far, since the economic-development organization does not allow companies to claim them until workers are hired.
Interactive's property-tax deal with the city is based on similar hiring plans—1,400 local employees by the end of 2018—but it's already enjoying those benefits. According to documents filed with the Department of Metropolitan Development, Interactive and building owner Duke Realty were granted a tax abatement in 2014 that would slash its real property tax bill by an estimated 70 percent—or $1.8 million—over 10 years. 
Tax abatements are staggered, with the recipient enjoying a 95 percent real property tax cut the first year and a progressively smaller cut in ensuing years. IBJ wasn't able to determine the value of breaks received so far, but the Department of Metropolitan Development originally estimated that the annual tax bill for the building at $206,400 annually.
The city's Metropolitan Development Commission reviews its deals annually, a spokeswoman said, and during its review in May it found Interactive only had 1,064 employees at the end of 2015 instead of the 1,100 it projected having. In an emailed statement, the spokeswoman said: "Considering the plan discussed and that the company outperformed in capital investment and wages, no further action was taken in terms of terminating the agreement. DMD will continue to monitor the company's compliance with the agreement."
The Department of Metropolitan Development said it expects to verify Interactive's 2016 year-end headcount—which is supposed to be 1,200 under the agreement—by May.
Under the deal with the city, Interactive proposed retaining 970 employees at an average wage of $31.25 per hour and hiring 430 employees at an average wage of $31.25 an hour.
The unoccupied office space that Genesys is on the hook for could work in the city's favor as local officials encourage the company to expand its footprint here. According to the real estate information firm CoStar, Interactive last spring signed an 11-year lease extension for all three of its buildings, which total 390,355 square feet.
That commitment likely will help Duke in its quest to sell the buildings. The company has been divesting office buildngs nationwide as part of a strategy to focus on industrial and medical-office properties.
Duke declined to comment.
Please enable JavaScript to view this content.