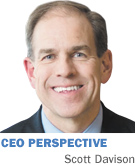 Indiana employers need a massive infusion of highly skilled, versatile workers to fill future jobs. By 2020, 62 percent of Indiana jobs will require applicants to possess post-secondary education, yet only 42 percent of central Indiana residents meet that standard, according to research by Georgetown University.
The gap in qualified applicants is due to misaligned supply and demand. Too few students go beyond high school, and too few of those who pursue higher education are focusing in high-demand areas, such as IT and finance. Even recent graduates with high-demand degrees struggle to make an impact early in their careers because they lack fundamental skills, including project management and basic communication.
What does all of this mean for a national insurance company headquartered in Indiana? An insufficient talent pipeline threatens our ability to grow here, as it does for many other employers. And I want OneAmerica to add branches where it has roots—in the same place it began in 1877.
The region's talented workforce has contributed to our history of success. We've doubled the size of our business over the last three years, increased our workforce 40 percent, and are poised for more significant growth by 2020. But for central Indiana talent to fulfill our developing need, the region must bridge the workforce gap. The good news is that work has begun through the Central Indiana Corporate Partnership and its recent initiative, Ascend Indiana.
There's a common misconception that workforce development can be distilled to a simple equation: Project the number of jobs in a certain industry and produce a corresponding number of graduates in that field. That approach might serve as a solution in some circumstances, but it won't lead to a system-wide shift in an increasingly knowledge-based economy. We need to develop a common, versatile skill set for new graduates. And we need to begin thinking of workforce development as an engine of economic growth rather than an assembly-line product.
The economic engine approach is at the core of Ascend Indiana's model. To set the efforts in motion, Ascend will engage employers to better understand their immediate and future talent needs and precisely define relevant skills, assessments and credentials. From there, Ascend will work with education providers—including career and technical institutions, higher education and community-based organizations—to identify and connect talent to available jobs and training.
Talent pipeline strategies include assessing existing programs with proven results; attracting new, evidence-based programs to the region; developing training programs based on unmet employer needs; and refining programs over time through employer and individual feedback. The last point is perhaps the most important step to ensure long-term success. Feedback, learning and continual improvement are critical.
Since Ascend launched, OneAmerica has been engaged in discussions with its leadership about our talent needs. A workforce analyst might easily assume that a company like ours—which provides insurance, retirement services and employee benefits—primarily seeks insurance majors. We do need a fair number of people with that background, but we also require hundreds of IT people, project managers, liberal arts majors and others with deep critical-thinking skills. And we need versatile problem-solvers.
Most employers need new graduates to possess a fundamental set of skills, apart from special training, that will allow them to be effective on the job:
• The ability to write and communicate for a business audience.
• The ability to work with technology and with IT professionals to implement new technology.
• Basic quantitative skills.
• Basic project management skills.
• Customer service skills.
• A grounding in ethics.
New graduates who know how to do these things and who bring specialized skills to the table will find themselves employed and poised for career advancement. Ascend has demonstrated that it embraces these concepts, and its support is important for companies like the one I'm entrusted to lead. I hope to see many of my colleagues from organizations of all sizes and from all sectors of our state's economy join in Ascend's efforts in the coming year.
When this community commits to doing something, we make meaningful change together. It's time to focus our efforts on bridging central Indiana's workforce gap.•
__________
Davison is president and CEO of OneAmerica.
Please enable JavaScript to view this content.